FedEx Put Female Employees in the 'Smalls' Section, Obama Official Says
Labor Department finds a pattern of discrimination at the express delivery company
By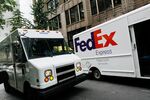 President Obama may heart FedEx, but his professed affection for the company hasn't stopped his administration from taking the company to task. The Department of Labor announced today that FedEx has agreed to settle charges of systemic hiring discrimination against tens of thousands of job applicants who were rejected for entry level package handler positions at about two dozen facilities across the country.
Under the terms of the $3 million settlement with the Labor Department's Office of Federal Contract Compliance Programs, FedEx will pay back wages and interest to 21,635 applicants and has agreed to make job offers to 1,703 of them (when positions become available).
Despite the bad press, FedEx is still in a good position. As corporate settlements go, $3 million is a tiny amount—probably a fraction of the revenue FedEx generates from its substantial contracts with the federal government. (Since FY 2000, it's been awarded as much as $14 billion.) The company doesn't appear to be in any immediate danger of losing those contracts, either. At a recent conference in Washington, FedEx garnered praise from top energy officials for agreeing to make its huge fleet of trucks more fuel-efficient.
What's interesting about this settlement is that it didn't originally come about because of an actual investigation of the company's hiring practices. (An investigation was conducted later, though it's not known how extensive it was.) The charges were mostly the result of what's known in government parlance as a "desk audit." There are 200,000 federal contractors—basically, nearly every large corporation in America is a federal contractor—and the Labor Department routinely audits 4,000 of them a year. Last year, they found hiring discrimination violations at 1,500 of those audited contractors: Tyson Foods, Alcoa, and pharmaceutical giant AstraZeneca (AZN:LN) all agreed to settlements.
Auditors looked at 23 FedEx facilities from 2004 to 2011 and found discrimination based on gender, race, and national origin. At one Ohio facility, officials found that men were hired 11.1 percent more frequently than women and that whites were hired 11.3 percent more often than blacks and 14.5 percent more often than Hispanics. The Labor Department considers these numbers to be "statistically significant," meaning they are large enough that the department thinks they couldn't have happened by accident and are therefore evidence of bias. Factored into this decision are the local demographics about the available labor pool.
In some cases, women were pushed out of positions that required heavy lifting. (That's against the law.) "As part of the investigation, we spoke with FedEx employees who told us that, for example, women would only get hired in the 'smalls' sections, where light-weight packages like letter envelopes are sorted for distribution," says Patricia Shiu, the Director of the Contract Compliance Office at the Labor Department. "They told us that the heavier, large-package handling jobs were overwhelmingly given to men. In fact, one of the 23 facilities involved was a FedEx SmartPost center in North Carolina, which typically handles lighter weight, residential shipments. There, women were the preferred hires and the adverse impact affected six male applicants. A male worker at another facility told us that he had been trying to get a job in Quality Assurance, but was told that he should be out in the large package handling area 'doing the work that men do.'"
If what Shiu says is true, then these women (and men) would have a serious legal claim against FedEx, says Samuel Estreicher, a professor of labor law at New York University School of Law.  At the time of this filing, it was not known if any of the women have brought claims against FedEx.
Judging from the small settlement amount, Estreicher says it's unlikely that the government was able to demonstrate major systemic discrimination. "If in fact we're talking about 21,000 people that in fact are facing real discrimination," he says, "then three million dollars is, as we say in Gaelic, bupkis!"
Before it's here, it's on the Bloomberg Terminal.
LEARN MORE