Corporate America to Small Biz: Sell to Us
by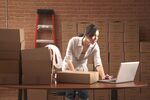 Corporate America has been under fire for decades for shipping work overseas to lower-cost suppliers. Now a group of multinationals led by IBM say they want to send more business to Main Street U.S.A. companies. More than a dozen companies that spend a combined $300 billion on outside suppliers have created Supplier Connection, a website where small businesses can register for the chance to do business with the big guys. The idea is that small companies can complete a single application to be considered for contracts by all the corporations in the group.
Here's how it works: Companies with less than $50 million in revenue or 500 employees sign up on the site and enter detailed information about what services or products they sell, their company finances, and their certifications. While small businesses can't browse contract opportunities on the site, large companies can draw on the database when scouting potential vendors.
The challenge for large companies is, "How do I find you, and how do I accredit you?" Citigroup Chairman Richard Parsons said Thursday at an event promoting the website at IBM's New York office. Citi and other major banks are among the companies participating. Others include AT&T, Facebook, Caterpillar, and Pfizer.
Why would such big corporations want to deal with small businesses? "The goal is to grow the U.S. economy in an effective way," says Stanley Litow, president of the IBM International Foundation. (The foundation is funding the project with a $10 million grant.)
Beyond such altruism, larger companies may find more nimble or competitive suppliers who may work harder to please a big client, says Kevin Lyons, a professor of supply chain management at Rutgers Business School. "With a small business, the hunger to do more business, to actually interact with such a large firm allows them to adapt and change," Lyons said.
The Small Business Administration is sending notice to 50,000 businesses already registered as government contractors to alert them about the Supplier Connection site. SBA Chief Karen Mills framed the effort as a way to create jobs in the U.S. "We are creating that momentum to make sure goods and services get produced right here," she said.
The Supplier Connection project began 18 months ago, when IBM launched the site with five initial partners. Since then, the portion of IBM's $40 billion in supplier spending that went to small business increased by $400 million, to $1.4 billion, according to IBM's Litow. The group says nearly 1,000 small businesses have registered so far, although it won't disclose how many have gotten contracts through Supplier Connection or the value of contracts awarded. Litow says the project should be judged in 2013 and that he expects more large corporations to join.
Still, the advantage for buyers is questionable, says Joel Sutherland, managing director of the Supply Chain Management Institute at the University of San Diego. "It's building complexity in, not simplifying it," he says. "I don't think there's a strong business case" for turning to small business suppliers. Sutherland, a former vice president of operations at Japanese auto supplier Denso, adds: "I think it's more of a halo effect."
Bottini Fuel in upstate New York is one small business that collected a sale through the website. IBM tapped the family-owned fuel provider to service backup generators at its mainframe plant in Poughkeepsie, N.Y. Although the company had been an IBM supplier a decade ago, co-owner Rick Bottini says the Supplier Connection site was instrumental in reviving the relationship. "Where do I knock on IBM's door?" he says. "They're actually knocking on our door now."
Before it's here, it's on the Bloomberg Terminal.
LEARN MORE