Bid & Ask: The Deals of the Week
by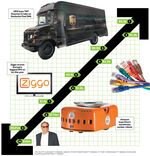 1. United Parcel Service is buying Netherlands-based TNT Express for $6.8 billion. The deal will double its size in Europe and put it on an equal footing there with Deutsche Post DHL.
2. Commodity supplier Glencore International, in partnership with Agrium and Richardson International, will pay $6.2 billion for Viterra to add grain assets in Canada and Australia.
3. Williams Partners, the third-largest U.S. pipeline partnership, will buy a natural gas pipeline system in the Marcellus Shale from Caiman Energy for $2.5 billion in cash and equity.
4. After failing to find a buyer last year, AboveNet, a New York-based operator of fiber-optic networks, agreed to be bought by Zayo Group for $2.2 billion.
5. Vista Equity Partners will acquire Misys for $2.1 billion and plans to combine the British financial software maker with Turaz, a risk-management software maker recently bought by Vista.
6. India's Tech Mahindra will buy the 57 percent of Satyam Computer Services it doesn't already own in a deal that values the company at $1.8 billion.
7. Dutch cable company Ziggo raised about $1.1 billion selling shares at the top end of its target price range in the richest IPO in Europe this year.
8. In its biggest purchase since Zappos, Amazon.com agreed to pay $775 million for Kiva Systems, a maker of robots that move items around warehouses.
9. Germany's Siemens will pay U.K.-based oil and gas operation-services company Expro $621 million for a unit that makes equipment for subsea power grids.
10. A 5,800-square-foot Victorian-style home in downtown Aspen, Colo., co-owned by actor Jack Nicholson and music entrepreneur Lou Adler, his Lakers seatmate, is on the market for $15 million.
Before it's here, it's on the Bloomberg Terminal.
LEARN MORE