business
The Gold Rorschach Test
By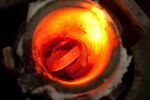 What is it about gold?
It's used in the manufacture of computer parts and tooth fillings. Frat boys swear it's julienned into vile solvent Goldschläger. Legend has it that George Hearst, the 1870s gold fetishist brought back to life in HBO's sorely missed Deadwood, had his miners shower over traps to capture tiny flecks of the stuff. Today, gold is above all an economic Rorschach. I get more cocktail party queries about it than anything else (save for maybe Shahs of Sunset).
Wouldn't gold be the logical play on America's (and the dollar's) long and inexorable decline? Is the shiny metal not the ultimate hedge against inflation and the debasing of currencies? Lately the price of gold has been all over the place. Since peaking in August at a daily close of $1,889 per ounce—shooting up more than 450 points in less than five months—gold has given back several sacks of Krugerrands. Gold futures for April delivery were last quoted at $1,647 an ounce, down $21 for the day and off $140 in less than a month. The past week has been especially nasty for gold bugs. What gives?
To begin with, the economy is feeling somewhat all right again. Markets are at a multi-year high. To mix many metaphors, the flight to safety impulse has taken a back seat to animal spirits. It could be that dollars and euros tied up in gold are increasingly being freed up to fund forays into hot risk assets such as stocks and junk bonds. Even housing is suddenly feeling an oat or two.
But it gets complicated. At the same time, U.S. Treasuries just had their longest run of declines since 2006, reports Bloomberg. Are bond yields creeping up because the economy is growing out of its codependency with zero-interest-rate policy? That would be bullish for the economy but potentially bearish for gold, especially if the dollar rallies and you see the fear trade unravel. Or are rates up because inflation could be around the corner? If that's the case, you could see a run back into the perceived safety of gold.
Sooner or later, the Federal Reserve will have the unenviable task of somehow sopping up the record amounts of stimulus it has poured into the economy. "A major bond bear market is inevitable within two years," wrote Donald Coxe, a commodity strategist, in a note last Friday. "Before then, gold will become increasingly respected as the universal store of value." Coxe recommended that pension funds hike their gold holdings.
Another disconnect: Gold is slipping, even as sovereign finances remain sickly. The U.S., for one, plans to finance a budget deficit that's forecast to exceed $1 trillion for a fourth consecutive year, with outstanding marketable debt expanding to $10 trillion last month. Intrade pegs the odds of the European union breaking up by the end of next year at 37 percent.
One of the biggest bull cases for gold's big run over 10 years—soaring demand from developing economies—is now in question. Earlier this week, Indian officials proposed doubling the import duty on gold. A government panel suggests that imports to the country of 1.2 billion could drop by 35 percent. "The stabilization of basic macroeconomic conditions at home is expected to curtail the demand for imported gold to be held as an asset by Indian households," C. Rangarajan, chairman of Prime Minister Manmohan Singh's economic advisory council, said. No. 2 gold consumer China, for its part, is raising the price of gasoline and diesel. That drain on disposable yuan, combined with a perception that China's breakneck economic growth could be slowing, stands to curb that nation's ardor for gold. A stronger dollar will only exacerbate this.
Maybe the world just doesn't have it as bad as it did during the trying era of the Iranian hostage crisis, the Soviet Union invading Afghanistan, and this. For all the buzz surrounding gold's ascent in recent years—the metal has more than quintupled since 2002—it would still have to rally by about 50 percent to revisit its inflation-adjusted 1980 high.
Before it's here, it's on the Bloomberg Terminal.
LEARN MORE