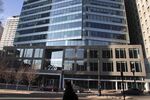 Amid reports that Goldman Sachs may be cutting more jobs on Wall Street, it's worth noting one spot where the investment bank plans to hire hundreds of people: Salt Lake City. With Goldman slated to expand its office there by 300 people to a total of 1,600 this year, the city is on track to become the bank's fourth-largest office in the world.
That may surprise people who don't associate the Mormon center with, say, arranging Greek loan swaps or shorting the mortgage market—although it does add a new dimension to Chief Executive Officer Lloyd Blankfein's now-famous quote about doing "God's work." But Goldman sees a lucrative future in a state that ranks not only as the country's youngest (median age 29.2 years) and most fertile (2.6 children per woman), but also boasted an average annual pay of $39,811 last year—well below the national average of $50,606.
"Our growth in Utah is a validation of Utah's strong talent pool, its robust business environment and infrastructure," Goldman spokeswoman Leslie Shribman wrote in an e-mail. "This region is an important part of our business and we look forward to expanding."
In fact, Utah is proving to be a draw for a number of big corporate players these days. Procter & Gamble chose the state when opening its first U.S. plant in more than four decades last year. On March 14, EMC opened a technical support center that will employ some 500 people. Both EBay and Adobe Systems are expanding, thanks to generous tax breaks. Even Campbell Soup's Pepperidge Farm brand will start expanding its facility in rural Utah next month to increase production of Goldfish crackers. No wonder the state boasts an unemployment rate of 5.7 percent while the national average stands at 8.3 percent.
So what does Utah have that's so special? Some of the state's advantages are tough to replicate, of course. The majority Mormon population has long given Utah a reputation for fostering a stable, well-educated workforce. The Mormon Church's tradition of sending young men and women on two-year missions is also credited with fostering a more global perspective. The pace of life, scenery, and easy airport access have proved attractive to a growing number of high-powered transplants like Jacki Zehner, a former Goldman Sachs partner who left New York with her family almost two years ago to settle in Park City, Utah. "We really wanted a lifestyle change," says Zehner, now a consultant whose initiatives include Women Moving Millions. Not only does she find it easy to travel to New York from the Salt Lake City airport—a hub for Delta Air Lines—she finds herself drawn to the entrepreneurial business climate and the culture. "You're surrounded by nice, hard-working people and it's a beautiful place to live."
But Utah's recent draw can be attributed to factors that are far more universal in nature: low taxes, branding, and a push to reduce regulations. Start with the 5 percent flat tax on corporate and personal income that was implemented about four years ago. Michael Sullivan, a spokesman for the Governor's Office of Economic Development, argues that this has given businesses a reassuring predictability that's matched with low costs elsewhere. "Those states that have no tax can sometimes have very high regulatory costs," he says. Moreover, the governor's office has eliminated some 300 regulations and handed out lucrative tax breaks to companies. When you add tech-centric universities and a marketing push around themes like "Silicon Slopes"—which the area's 2,600 IT companies began using a few years ago to sell their industry—it's easy to see why Utah managed to maintain its AAA rating as other states have struggled to balance their books.
Even so, the euphoria around Utah must be balanced with some of the limitations. As James Wood, director of the Bureau of Economic and Business Research at the University of Utah, points out, about 37 percent of the state's growth over the past decade has come not from high-flying finance or tech jobs but the more pedestrian health-care sector, where wages average about $37,000 annually. Utah's high birth rates have also created demand for teachers and other services that also don't pay big salaries. "A lot of growth is generated by the internal population growth," Wood says. "We don't have high wages here." Moreover, some sectors like construction have collapsed from 105,000 jobs a few years ago to a current total of about 65,000, which has created a pool of workers who have struggled to find work.
And yet the overall trend appears to be in Utah's favor. Modest wages have generally been matched by a modest cost of living. And as companies like Goldman Sachs head west to pursue their fortunes, the state's merits become evident to their competitors, too.
Before it's here, it's on the Bloomberg Terminal.
LEARN MORE