Europe's Debt Woes Getting a Spanish Accent
By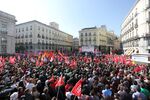 Could Europe's next debt crisis have a Spanish accent? From swelling government debt to banks burdened with bad loans, the news from the euro zone's fourth-largest economy is getting worse by the day.
Spain is tipping into its second recession since 2009, with the economy forecast to contract 1.7 percent this year under pressure from deep austerity measures and flagging exports. Public debt has soared to 68.5 percent of gross domestic product, the highest rate in at least two decades, and the government of Prime Minister Mariano Rajoy has had to scale back plans to reduce budget deficits. "Spain seems to be the main risk in the near future for Europe," says Stéphane Déo, chief European economist for UBS. "The market is losing patience."
Investors are clearly wary. Spain's borrowing costs have risen 48 basis points over the past three weeks, with yields now above those of Italy for the first time since August. "It has replaced Italy as the lightning rod," says Marc Chandler, global head of currency strategy at Brown Brothers Harriman. The government's ability to control budget deficits is a key worry. Spanish bond spreads began widening early in March after Rajoy said he would be unable to achieve a deficit target of 4.4 percent of GDP this year. He persuaded euro area finance ministers on March 12 to ease the goal to 5.3 percent.
Most of the deficit slippage, though, was caused not by Rajoy's government but by the country's 17 semi-autonomous regions. Their borrowings have risen 17 percent over the past year as they overshot budget-deficit targets. Moody's Investors Service estimates that $54.8 billion in public spending will have to be trimmed this year to meet current targets, a reduction that it said would probably require cutting into the regions' spending on health, education, and other services. "Even if Rajoy does all the right things, you run a risk because part of the deficit is not controlled by the central government," Déo says.
Adding to the gloom, the Bank of Spain reported on March 20 that Spanish banks' bad loans as a proportion of total lending jumped in January to 7.9 percent, the highest level since 1994. Growth in exports, which had been the economy's key driver, slowed during January. Spain had been counting on foreign demand to compensate for a 4 percent decline in domestic demand, but weak economic performance across Europe has dashed those hopes.
"The country is trapped, no matter which way they turn," says Harvinder Sian, a fixed-income strategist at Royal Bank of Scotland (RBS:LN). "I do not hesitate to say that currently, Spanish bonds are in a bubble."
Before it's here, it's on the Bloomberg Terminal.
LEARN MORE