business
Behind the Birth, Death, and Rebirth of Datsun
How Nissan killed a global brand in 1981, and then decided to revive it
By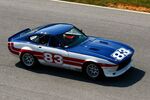 Datsuns are back. Well, kind of. Nissan on March 21 announced that it's reviving the once-popular brand, phased out in 1981—but only in Russia, India, and Indonesia.
Question is, why did the brand ever die? Back in the 1960s and '70s, Datsun cars and trucks were a global favorite—especially in America when gas prices soared following the Arab oil embargo of 1973. Datsun was consistently one of two top-selling Japanese brands in the U.S., the other being Toyota.
The model that famously put Datsun on the map was the 510, "a car that had a lot of the dynamics and specs of a BMW, but for a hell of a lot less money," says Jim Hall, principal of automotive consulting firm 2953 Analytics in Birmingham, Mich. When the fuel crisis hit, Datsun's zippy and efficient B210s also took off, cementing the company's reputation. To top it off, Nissan was the first company to market small pickup trucks in America and also introduced Z-cars—a series of sleek, well-made Datsun sports cars that cost significantly less than, say, Porsches.
So, what happened?
It all goes back to the Datsun name. Nissan Motor, established in 1933, was a reorganized version of a company called DAT Automobile. The earlier company's name was based on the first letters of the surnames of three investors: Den, Aoyama, and Takeuchi. DAT in 1931 released a two-seater called the "Son of DAT," or Datson. The suffix was soon changed to "sun," because "the rise of imperialism in Japan brought a lot of focus on the sun—land of the rising sun, the naval ensign was the sun," says Hall. An alternate theory, which has been disputed, is that the word "son" in Japanese implies losing money.
For decades, Nissan continued using the Datsun brand everywhere but in Japan. Then, in 1981, the company resolved to rebrand all Datsuns as Nissans, as part of a global strategy to strengthen the company name. It proved to be a disaster. "Datsun signs came down, Nissan signs went up, and all the cars became Nissans. Overseas sales plummeted," recalls Jackson Sellers in an e-mail exchange. Sellers is a retired Los Angeles Times writer who became friends with Yutaka Katayama, or "Mr. K" as he was known while Nissan USA president during the '60s and '70s. "Nissan? What's that? It took several years for Nissan to recover."
Hall estimates that the change cost Nissan hundreds of millions of dollars in terms of signage changes, marketing costs, and lost capital. "It was arguably a stupid thing when they did it because [Datsun had] great name recognition in the U.S." And despite an aggressive name-change campaign, brand recognition long remained higher for Datsun than for Nissan. Today, Nissan has slipped to the No. 3 Japanese brand in the U.S., behind Honda, and, according to Hall, Nissan's name change is one factor that worked to Honda's advantage.
Now back to the revival of the Datsun brand. Hall suspects the move is part of Nissan's strategy to sell lower-cost cars without devaluing the company's luxury Infiniti brand. "Rather than pull Nissan down, they're adding an entry-level brand," says Hall. "And it's a heritage brand."
Sellers, 80, can attest to that. "In my garage sits a pristine 1972 Datsun 510 wagon with 350,000 miles on it," he writes. "The darling still runs nicely when I take her out."
Before it's here, it's on the Bloomberg Terminal.
LEARN MORE