As the Times Raises Its Pay Wall, Other Papers Feel Left Out
by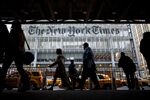 After years of struggling to erect a pay wall on its popular website, the New York Times Co.'s digital strategy seems to be a success. On March 20, it said it has 454,000 paid digital subscribers, compared with 100,000 in April. Thus emboldened, the Times is trimming the number of monthly articles it makes available on the site for free, from 20 to 10.
This may be dispiriting for those who enjoy columnist Maureen Dowd's fillets of Mitt Romney at no cost. But it's heartening for other newspaper companies. If the prestigious Times hadn't been able to convert website visitors to paying customers, what hope did they have?  (Yes, the Wall Street Journal has a digital subscription business, but it wisely decided to charge for its online fare from the very beginning.)
Wall Street has taken note, too. Here's what Douglas Arthur, a veteran industry analyst at Evercore Partners has to say: "In our view, an investor in the NYT can only really point to the uniquely successful pay wall as a catalyst to invest." Arthur also applauded the company's "rapid deleveraging, progress on a previously large unfunded pension liability, and excellent cost control."
Predictably, several other big newspaper companies, such as Gannett, have recently announced their own pay-wall strategies. But what works for the Times may not work for everybody else. Earlier this month, the Pew Research Center's Project for Excellence in Journalism released a survey of newspaper executives. Some said they were thriving on the Web; others were pessimistic, and understandably so. The publishers in the survey said they were losing an average of $7 in print revenue for every $1 gained on the digital side.
The trouble is, they face more competition online line than they do when they offer news on paper. And as the Times grows stronger on in the digital world, it threatens their existence as never before. Why should readers pay for a wire story about Iraq at the local metro daily's website when they can just as easily treat themselves to a more deeply reported piece by a Pulitzer Prize winner at NYTimes.co—and get Maureen Dowd thrown in as part of the deal?
Before it's here, it's on the Bloomberg Terminal.
LEARN MORE