Layoffs Are Latest Blow to Oprah's Cable Empire
by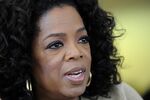 When Oprah Winfrey had a talk show on ABC, she could do no wrong. The queen of afternoon television hosted Hollywood's biggest stars. She famously gave away Pontiacs to her studio audience in 2004. "Everybody gets a car!" she shouted, jumping up and down. "Everybody gets a car!"
Winfrey has had less reason to celebrate since she ventured into the fragmented universe of cable TV, launching the Oprah Winfrey Network in 2011. According to Horizon Media, a New York ad agency, OWN attracts an average of 250,000 viewers in prime time. That's a pittance, compared with the 12.6 million viewers who watched her afternoon talk show during its final season on ABC.
This has led to predictable retrenchment at OWN, a joint venture between Discovery Communications and Harpo Productions, Winfrey's production company. Last week, OWN canceled The Rosie O'Donnell Show after a mere five months. Yesterday, it announced it is trimming 30 jobs. "It's difficult to make tough business decisions that affect people's lives," a humbled Winfrey said in OWN's statement. "The economics of a startup cable network just don't work with the cost structure that was in place."
Winfrey's difficulties offer further proof that personality simply isn't as important as platform in the media business. Self-proclaimed "King of Media" Howard Stern went from ubiquity to relative obscurity in 2005, when he left terrestrial to go to satellite. Former MSNBC host Keith Olbermann has seen his audience dwindle since he moved to independent broadcaster Current TV. Conservative talk show Glenn Beck has wielded less influence since he left Fox News. His show now appears on GBTV, his subscription Web network.
How serious are the troubles at OWN? On Monday, the network said Neal Kirsch, Discovery's U.S. finance chief, is moving to the network to become its chief operating officer. It's not surprising that Discovery would want to keep a closer watch over the network's books. As OWN's primary funding source, Discovery had spent $312 million as of Dec. 31. Bloomberg News reports that Discovery is monitoring the network's performance in case it needs to write down its investment.
Before it's here, it's on the Bloomberg Terminal.
LEARN MORE