Why 3.5 Million Job Openings Isn't Great News
By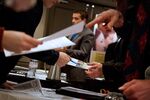 If you're out of work and hungry for a paycheck, the news from the government on March 13 sounded almost too good to be true: Employers have literally millions of jobs going unfilled. To be precise, there were 3.5 million job openings in the U.S. as of the last business day in January, the U.S. Bureau of Labor Statistics said. That was an increase of 45 percent since the depth of the recession in 2009.
The news is accurate, but it's not entirely a good thing. There's a reason those jobs aren't being filled. In fact, it's a sign of ill health in the job market that employers can't seem to find the people they need, even as 12.8 million Americans are officially searching for work. (That's the February number.) Typically, one would expect to see this many openings only if the unemployment rate were down between 5.5 percent and 6 percent, economist Ian Shepherdson of High Frequency Economics in Valhalla, N.Y., said in a March 16 research note.
Here's Shepherdson's attempt to explain the discrepancy: "The most likely explanation for this startling development is that employers regard people who have been out of work for some time with a degree of suspicion, worrying that perhaps their skills are stale or obsolete, or that they will find it hard to get back into the habit of working."
If Shepherdson is right, it's terrible news for America's jobless. It's also bad for the overall economy. Because it means the economy could start overheating—with "tight" labor markets and fast-rising wages—even with an unsatisfactorily high unemployment rate.
Before it's here, it's on the Bloomberg Terminal.
LEARN MORE