The Secret World of Hong Kong's Private Kitchens
by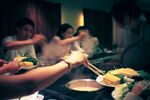 Even longtime Hong Kong residents get lost trying to find Fa Zu Jie. The new eatery, which specializes in French-inspired variations on traditional Shanghai dishes, is in the financial district, not far from the colonial-era elegance of the Mandarin Oriental Hotel or the hip bars of Lan Kwai Fong. But from the outside, it seems like a transplant from the working-class, Cantonese-speaking city that Western business travelers seldom visit. To get to Fa Zu Jie, diners need first find the entrance to a tiny alley squeezed between a construction site and a vendor playing recordings of Chinese opera. On the right is an unmarked entryway, under a sign in Chinese for a Buddhist temple and between government-issued posters warning of the perils of high-rise living. ("A Falling Object Can Cause Serious Injury or Even Kill;" "Parents Should Explain to Children the Serious Consequences of Dropping Objects from Height;" "Dropping an Object from Height is a Criminal Offense!")
Brave visitors who are undaunted by the threat of killer falling objects climb one flight of stairs and look for an unmarked door on the left. Inside, they're suddenly back in cosmopolitan Hong Kong. Fa Zu Jie's interior is a one-bedroom apartment that the owners have transformed into a brightly lit open kitchen-cum-dining room, with old wine bottles lining the shelves and an enclosed patio in the back. Every evening around 7, a small group of diners who have reserved well in advance can taste some of 40-year-old chef Paul Hui's signature dishes, such as drunken chicken, based on an old Shanghai favorite, which he makes with wild quail imported from France and serves with cloves and lemon peel on a bed of cold udon noodles. At Fa Zu Jie, wontons come not with the standard pork filling but with pumpkin and caramelized onion, complemented by slow-cooked beef.
Hui and his two co-owners figure they can pull off the hidden-jewel spin because Fa Zu Jie is not an ordinary restaurant. Indeed, technically it's not a restaurant at all. It's a private kitchen, a type of eatery that has a long history in Hong Kong and is an important part of the local dining scene. Private kitchens operate in legal limbo: They're not full-fledged licensed restaurants but they're not shady speakeasies either. They're typically small, serving between 10 and 30 diners at one set time, and located in residential buildings in less-expensive parts of town. Often they're in converted apartments—sometimes even in the chef's home. The upstairs locations can be inconvenient, but many local diners don't mind because when it comes to good food, "people in Hong Kong are willing to go in an elevator," says Angie Wong, a local restaurant critic.
Most private kitchens exist thanks to a loophole in local law. The licensing requirements for private clubs are less stringent than for regular restaurants, says Janice Leung, a food writer for the South China Morning Post and Time Out Hong Kong, so many private kitchens get around the rules by posing as clubs that are just catering to their own members and not the general public. Guests usually need to book well in advance and owners can't display menus in the window or promote themselves as public dining establishments. Some operate under the cloak of other businesses, such as a cooking school or art gallery that just happens to serve food at night. By operating a private kitchen instead of a restaurant, "you don't have to go through all the food and safety requirements," Leung says. "What you do inside is up to you and the members."
Visitors needn't worry about a lengthy process to apply for club membership. "The customer has to be a member," says Terrence Lee, who operates Gitone, a private kitchen that has been around since 1995 and is one of Hong Kong's oldest. How does one become a member? "They just come in."
Some of Hong Kong's private kitchens are now going upscale, appealing more to high-end diners looking for ways to impress colleagues or visitors from out of town. Eating at a private kitchen gives you the chance to talk with the chef and learn more about the food, says Dean Aslan, a wine dealer from Australia who has lived in Hong Kong for four years. Compared with eating in a restaurant at a five-star hotel, he says, "it's a far more personal experience." A high-end private kitchen that serves only a small number of diners a night "is an exclusive club," says Wong, the restaurant critic. "You have a very dedicated chef who is just going to serve you and nobody else." Some private kitchens allow a party to book the whole place for the evening, which is especially attractive in a densely packed city that's crammed between hills and harbor. In Hong Kong, "when talking about luxury, it's about having your own space," Wong adds. "Hiring out a kitchen to prepare a meal for you and your guests—if you are talking about luxury, that would be it."
Corner Kitchen, an 800-square foot, ground-floor dining room in a quiet residential neighborhood west of the business district, is by day a boutique cooking school. By night it offers private dining with dishes like Balinese Guling (roast suckling pig). For $130 a person, not including wine, "you have your own place and no one to bother you," says Matt Jones, the 37-year-old Aussie who is Corner Kitchen's chef.
Exclusivity alone isn't enough to ensure the success of Hong Kong's private kitchens. The food has to be good, too. Chefs at the city's private kitchens increasingly are focusing on more sophisticated menus with idiosyncratic twists. Margaret Xu, chef at Yin Yang, a private kitchen in a small, old, three-story warehouse on a Wanchai side street, boasts that she makes her own noodles on an Italian pasta grinder, prepares her own tofu with mineral water, and serves vegetables grown on an organic farm she operates in Hong Kong's rural New Territories. Her goal is to popularize a new style of Hong Kong cuisine, which is not as recognized among food critics as that of Macau, the former Portuguese colony across the Pearl River Delta. "Macau was lucky because they got the Portuguese; when you mix that with Chinese food, it's terrific," she says. "We had the British. So it's very, very … limiting."
One of the most popular private kitchens among foodies is Ta Pantry, a tiny second-floor apartment in a squat building that is just a short walk from one of Hong Kong's most upscale shopping malls. Chef Esther Tam is a former model who worked at the 2-star Michelin restaurant L'Atelier de Joel Robuchon before deciding to open a private kitchen with her brother, a wine connoisseur who needed a place to store his collection. "He buys wine like women buy shoes," says Tam, who serves six to 10 guests a night at her one-table private kitchen. They can choose from five menus that mix Asian and Western tastes. Dishes include citrusy crabmeat ravioli, served in lemongrass-scented chicken bouillon, and foie gras tamago custard with Asian mushrooms.
Like many of Hong Kong's top chefs, Sham worries that private kitchens are becoming too popular for their own good. "There are a lot of so-called private kitchens that are fully licensed," she says.  "They are using the name of private kitchens to sell, because if they were to compete in the real restaurant world, they might not have a place to stand." She's especially irked by private kitchen owners who hire outsiders as chefs. "I know of a lot of private kitchens, the owners don't even cook," she says. "I don't think that's the soul or meaning of a private kitchen. When I book a private kitchen, I want to see the chef cooking for me, not some random person cooking without heart."
One owner trying to hold onto the original private kitchen spirit is Mandy Nathali. She is the owner and chef of Mandy's Private Kitchen, which specializes in Caribbean food. Nathali grew up in Britain, the daughter of immigrants from Punjab, and learned to cook Caribbean food from her mother-in-law. She serves guests from her home in a village in the New Territories. Like a true private kitchen, Mandy's place is hard to find. It's about a half-hour drive by taxi from the city and it's easy to get lost on the way. Nathali will send directions in English and Chinese but has one request: Please don't forward them to others. "A nice thing about private kitchens is trying to find them," she explains. "We want to keep the exclusive, elusive factor."
Before it's here, it's on the Bloomberg Terminal.
LEARN MORE