pursuits
Kid CEOs: Sisters Sell Spa-Themed Products for Girls
By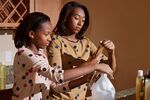 In February, Brea Holmes, an 18-year-old high school senior from Phoenix, was passing the time in her afternoon Spanish class by surreptitiously texting. "I know it's a bad thing to be texting during class," she says. But her attention was diverted, and it was her own mother, Lisa, who was prying away her eyes. "My mom was like, 'Why are the Nickelodeon Kids' Choice Awards looking for you guys?'" Holmes's voice trembles with excitement. "I literally almost screamed. I went crazy."
When not in school, Brea and her 12-year-old sister, Halle, are the founders and chief executive officers of Sweet Dreams Girlz, a producer of paraben-free skin care products for young girls, including shampoos, conditioners, facial cleanser, lip balm, and moisturizer. The idea for the company was borne out of a themed slumber party the Holmes sisters hosted for a group of friends and relatives. The girls chose a "spa" theme. So their parents took them to a local outpost of Bath & Body Works to stock up on supplies.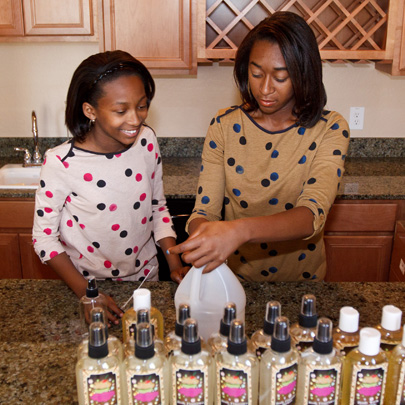 "Well, it was kind of my idea," says Halle, a sixth-grader. "We were going to have a spa night at home, so we went to the local store and found that there weren't any girls' beauty lines. So I turned to my sister and said, 'Why don't we start our own?'"
Brea agreed. "I had sensitive skin when I was younger," she says. "I had issues finding products that were natural and that didn't irritate my skin. I thought it was good idea—we should start something on our own."
Sweet Dreams Girlz launched in 2010 with a $6,000 investment from their parents. According to Lisa, who owns a plus-size fashion line called Honey Clothing, the girls' company brought in roughly $22,000 in revenue last year. This year, so far, they've pulled in $5,000. Their most popular items, they say, are the Pink Sugar Body Wash Smoothie, Iced Lemon Cookie Body Wash Smoothie, and the Body Frosting Moisturizer. "The girls always loved things that are sweet," say Lisa, explaining the sugary labels. (Other scents include Chocolate Chip Cookie, Pomegranate Peach, and Marshmallow.) "These are the things they like. They vetted all of the products with their friends in their own little focus group."
After getting their spa products off the ground, the girls intend to become a full-blown lifestyle brand. "We're creating shoes, accessories, headphones—all the stuff that girls like," says Brea, "We're expanding."
This fall, Brea plans to attend Woodbury University, in Burbank, Calif., where she'll study fashion design and business—and will continue to work with Halle, albeit long distance, on the expansion of Sweet Dreams Girlz. ("She thinks she's a little Isaac Mizrahi," Lisa jokes.)
Before then, though, the girls have a date with Hollywood. At this year's Nickelodeon Kids' Choice Awards in Los Angeles, hosted by Will Smith, several Sweet Dreams Girlz products will be featured in the event's swag bags. The Holmes sisters will attend the ceremony, on March 31, where they'll be ensconced in the gift lounge for the duration of the show. "We'll be giving out the bags and talking about projects and getting ourselves out there," says Brea. "It'll be surreal." Is there anyone they're dying to meet? "Selena Gomez!" says Halle. "Bruno Mars!" says Brea. Lisa steps in: "Well, mom is hoping for Michelle Obama."
Before it's here, it's on the Bloomberg Terminal.
LEARN MORE