Jobs, Jobs, Jobs
Harold L. Sirkin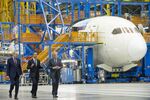 Although the demands of my job make me deliberately nonpolitical, I recently visited the Rolls-Royce manufacturing plant near Richmond, Va., where President Barack Obama was making a campaign appearance to talk about jobs.
If you haven't figured it out by now, that will be the 2012 campaign mantra: Jobs! Jobs! Jobs! And both parties will use it.
While politics might play a role, most companies make plant location decisions based on the math. The good news: The math is starting to work in America's favor again.
Changing conditions in China will bring home some of the manufacturing that migrated overseas during the past decade. These factors include China's rapidly rising labor costs (15 percent to 20 percent annually), the increased value of the yuan, the challenge of managing long-distance supply chains, quality control concerns, and the significantly higher productivity of U.S. workers.
Boston Consulting Group predicted this re-shoring or "insourcing" trend—for certain goods meant for sale in North America—would start by around 2015. But it has already begun.
Seven sectors are likely to benefit the most: vehicles and auto parts, appliances and electrical equipment, furniture, plastic and rubber products, machinery, fabricated metal products, and computers and electronics. All of these combined currently account for two-thirds of the $325 billion the U.S. imports from China.
If the trend continues, as we expect it to, the economic impact could be substantial—resulting in 2 million, and possibly as many as 3 million, U.S. jobs by the end of the decade.
This is not the first time U.S. manufacturing has rebounded after facing a serious threat. "Japan Inc." was going to close down U.S. factories in the 1970s. Then it was the Asian Tigers. Now it's China. Each time, U.S. manufacturing has taken a clobbering, adjusted, and recovered. The China challenge may play out the same way.
The math is now telling us the U.S. is becoming competitive again.
Before it's here, it's on the Bloomberg Terminal.
LEARN MORE