Apple Finds Best Place to Put Its Cash: Apple Shares
by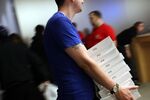 As if Apple really needed to pay anyone to own its shares.
This is the largest company in the world, a $555 billion market-cap Jupiter that dwarfs everything else in and out of its solar system. As I write this, iDrones are lining up outside Apple Stores for the privilege of forking over $600, or approximately one share of Apple, for the latest iPad. In just the first three months of the year its stock is up 46 percent. Past 12 months: 80 percent. Ten years: 1,400 percent. Beats a CD.
This morning, the Cupertino (Calif.) company finally announced it would be throwing billions of stimulative dollars at the above predicament—by paying a dividend and buying back $10 billion of its stock. Starting sometime after July 1, investors will receive a quarterly dividend of $2.65 a share, with buybacks kicking off on Sept. 30. The shares are up $7 this morning after briefly visiting $600 last week. Street wags are already calling the most bullish analysts the "700 Club." You'll soon hear the $1,000-a-share mark broached. Literally everyone who follows this stock is taking client calls on Apple's chances of hitting a trillion-dollar market cap.
"We have used some of our cash to make great investments in our business through increased research and development, acquisitions, new retail store openings, strategic prepayments and capital expenditures in our supply chain, and building out our infrastructure. You'll see more of all of these in the future," said Tim Cook, Apple's chief executive officer, in the release. "Even with these investments, we can maintain a war chest for strategic opportunities and have plenty of cash to run our business. So we are going to initiate a dividend and share repurchase program."
Here's why today's supposedly blockbuster news is no biggie: Apple's rapidly growing $98 billion cash horde will continue to remain an embarrassment of riches—probably even more so than it already is. The cash dividend, Apple's first in 17 years, represents a yield of just 1.8 percent on the stock's last closing price, which is less than the Standard & Poor's 500-stock index's 1.95 percent average dividend yield. The company plans to pay out about $45 billion (approximately one Ford Motor worth of valuation) over three years. But it generated $16 billion in cash in the first quarter and is on its way to stockpiling an additional $60 billion this year, according to estimates by Sterne Agee & Leach. In theory, Cupertino could easily have come out and committed multiples of its current cash kitty—which is earning little in this low-rate world—to reabsorbing a ton of its shares, which still trade at a discount to the broad market multiple. That $98 billion, for example, represents 18 percent of Apple's current market cap. It boggles the mind that this is the same company that was two or three months away from bankruptcy in 1997.
A disappointed Matt Nesto blogged: "The biggest, most innovative company in the world at this time just put forth the most ordinary and underwhelming solution for utilizing the most conspicuous cash pile on earth." He was looking for more creative solutions to Apple's cash problem, including a one-time $25-a-share payout and a $10 billion commitment to increasing the wages of its army of underpaid foreign workers.
Not that today's announcement would preclude such decisions. Analyst Abhey Lamba of Mizuho Securities, a new member of the $700 Club, estimates Apple will generate more than $150 billion of free cash flow in the next three years. Apple still has just 24 percent of the global smartphone market. Apple TV is still in the offing. iPayments anyone? These are all majorly high-class problems to have.
Take heart. If this were 1985, Apple might be blowing its cash wad on a theme park, film studio, or restaurant chain. Apple's current investor base, which has stuck with the company as it has lopsidedly opted to innovate rather than rebate with its cash, should be happy that its financial strategy remains largely unchanged.
Before it's here, it's on the Bloomberg Terminal.
LEARN MORE