When Irish Eyes Are Hopeful
By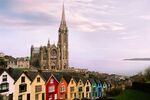 As Dubliners and New Yorkers were preparing to head into the pubs to tip back a pint or two in honor of St. Patrick's Day, Irish Cabinet Minister Joan Burton was in Manhattan on March 16 to deliver an optimistic message about the economic prospects for an Irish economy that ran off the rails in 2008. As Irish Prime Minister Enda Kenny's Social Protection Minister, Burton's job is to figure out ways to lower the country's painful 14.2 percent jobless rate, just as the government is under international pressure to cut spending.
Two years ago, Ireland received a $67.5 billion bailout package from European governments and the International Monetary Fund. Ireland's banking system has stabilized for the most part, but the country is still coping with a budget deficit clocking about 10 percent of gross domestic product and the government is likely to cut its 1.3 percent growth forecast for 2012. On top of that, Kenny's government will soon hold a Yes-No referendum on the European Union's new fiscal treaty, which mandates tight deficit rules. If Ireland votes No, the country would be cut off from any additional support from the euro zone's bailout fund—a worrisome scenario because the economy may yet need more financial help.
Burton took a break from the St. Patrick's Day festivities at a Midtown Manhattan restaurant to discuss Ireland's crucial referendum vote and the outlook for the economy. Here are the edited excerpts:
When will your government schedule the referendum on the fiscal treaty, and are you confident voters will sign off on this?
There have been two major polls showing support. But I should caution that referenda in Ireland are very difficult to call. People understand this is a big issue and will contemplate the vote seriously. As for the timing, it will be late May or early June—or late June or early July. We need to have this vote by October. (Ireland's school-entrance exams are held in mid-June.)
If voters say No, what are your thoughts on Ireland remaining in the euro over the long term?
A Yes vote will secure Ireland's future in the euro zone. The EU has had an enormous positive impact on Ireland. As for the debt treaty, we are already doing a lot of heavy lifting (on fiscal policy). The IMF and other regulators check our revenue returns on a daily and weekly basis. At the end of every quarter, a team arrives and goes over our books in great detail.
Ireland's bank sector is no longer in crisis, but there's talk of rescheduling the payments of promissory notes used to bail out two banks, including the former Anglo Irish Bank. Is that doable?
The promissory notes were created in a period before the debt crisis in Europe. It's very expensive and onerous. The former government thought the situation was going to turn around. One problem we face is that we still don't have the flow of credit from the banks to local business.
The IMF has called for welfare-spending reform in Ireland. How have you responded?
The Irish system has been rather passive, and the IMF has offered sensible advice. We launched a new structure called Pathway to Work. The day you start receiving assistance is the day we start helping you get back to work. We want to be not just a cushion, but also a trampoline.
Is the worst over for the Irish economy?
If the European debt crisis continues to stabilize, we should be moving into a recovery stage. We have had the equivalent of a 16 percent internal devaluation and our economy is now very, very competitive. We have cut wages and increased taxes. Real estate prices have fallen. We have an attractive corporate tax rate. We are more competitive than we were five years ago.
Before it's here, it's on the Bloomberg Terminal.
LEARN MORE