What Slowdown? The Mormons Are Building a Mega-Mall
The Mormon Church is sprucing up downtown Salt Lake with an extravagant shopping center
By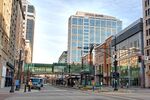 Mall construction has screeched to a near-halt across the country, with stores such as Sears and Gap shuttering hundreds of locations. But in Salt Lake City the future of retail is bright: On March 22, a 700,000-square-foot mega-mall will open in the city's heart. Construction was funded by the Church of Jesus Christ of Latter-day Saints.
City Creek Center is the nation's only regional mega-mall slated to open this year, according to the International Council of Shopping Centers, and more than 90 stores and restaurants are moving in. One-third of the retailers are new to Salt Lake City, including Tiffany & Co. and Coach. Nordstrom and Macy's are also on board.
Designed by the Church's real estate arm, City Creek Center is replete with a retractable sunroof, a man-made creek, and fountains that spew fire and water. Apart from elaborate design features, the redevelopment project—estimated by the Mormon-run Desert News to have cost roughly $1 billion—includes offices, condos, apartments, and 5,000 underground parking spots. The mixed-use project is owned and run by mall operator Taubman Centers, which has a long-term lease and revenue-sharing agreement with the LDS Church. Stores will be closed on Sundays.
This kind of project isn't new to the Mormon Church; the institution owns many commercial enterprises, including hunting grounds, radio stations, newspapers, and insurance companies—not to mention a $1 billion, for-profit cattle-and-citrus ranch in Florida and a Polynesian Cultural Center in Hawaii. Its newest investment will sit directly across the street from the Church's monumental Temple and Tabernacle.
Why the big investment in retail? "These are the two major city blocks that sit across from the headquarters of the Mormon Church and they were poorly designed," says Bill Taubman, chief operating officer of Taubman Centers, who says City Creek has replaced two failing fortress-like shopping centers. "The Church … decided that a major mixed-use project with retail as a centerpiece would be the best way to rejuvenate and stabilize downtown."
In some ways, the Mormon mega-mall investment isn't surprising. The religion's history with department stores dates back to 1868, when Brigham Young, the Church's second president, founded Zions Cooperative Mercantile Institution. ZCMI, sometimes referred to as "America's First Department Store," sold to the May Department Stores Co. (now Macy's) in 1999.
The 1,200-foot-long, man-made creek coursing through City Creek Center harkens back to those early days. "We recreated City Creek, which Brigham Young would have seen when he came across the Wasatch Mountains," says Taubman.
Before it's here, it's on the Bloomberg Terminal.
LEARN MORE