Washington State Tailors 'Social Purpose Corporation' to Sustainable Business
By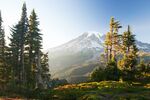 Bruce Herbert knows better than most how pressure from shareholders can influence a company's behavior. As chief executive of Newground Social Investment, a three-employee Seattle investment adviser with $65 million under management, he's spent the last 18 years pushing the corporations in his portfolio to do the right thing for the environment and local communities. Among his victories: persuading DuPont to drop a plan to strip-mine land next to the Okefenokee National Wildlife Refuge in the 1990s and, more recently, getting McDonald's to cut pesticide use by farmers growing its potatoes.
But Herbert knows most of the money in the markets is pushing the other way, to maximize profit regardless of the consequences. "Whenever money moves, it has an impact," he says. "Without a degree of forethought the impact is generally negative." That's why he plans to register as a social purpose corporation, a new type of company coming to Washington state under a bill passed this month that, barring a veto from Governor Chris Gregoire, will become law by the end of March.
Like California and other states, Washington has tailored the proposal to fit companies that combine social missions with making money. It instructs so-called social purpose corporations "to promote positive short-term or long-term effects of … the corporation's activities" on employees, suppliers, customers, the public, or the environment.
Businesses behaving badly often have the cover of their obligation to shareholders to justify their actions. Companies that choose to become social purpose corporations (the decision requires two-thirds of shareholders to approve) explicitly commit to broader goals. In Washington state, they would add a piece to their articles of incorporation explaining that their mission "may be contrary to maximizing profits." Companies must also post annual reports online describing their mission and efforts to advance it. The idea is that transparency will keep the companies honest and prevent greenwashing, or claiming to be environmentally responsible solely for marketing purposes.
The social purpose corporation should give business owners like Herbert the flexibility to pursue missions beyond profit without inviting lawsuits from shareholders, says Drew Markham, a supporter of the law and an attorney at Wilson Sonsini Goodrich & Rosati in Seattle. "More and more entrepreneurs want to run their business differently," she said in an interview late last year. "They understand they want to do more for their community, they need to do more for the environment, they need to do more for their employees."
The change will be largely symbolic for Herbert, who is the sole owner of Newground Social Investment. He hopes larger companies will adopt the same model and eventually make the kind of shareholder activism he's practiced for decades unnecessary. Herbert, who started his career at Merrill Lynch in 1984 and was involved in the anti-apartheid campaign to pressure companies to divest from South Africa, doesn't expect the change to happen quickly.
But he says companies that maximize profits in the short term at the expense of the environment and society won't prosper in the long term. "The idea that companies don't have any responsibility to look at things long-term is, I think, a travesty, and it's not profitable," he says.