Wanted: More CEOs in Washington
By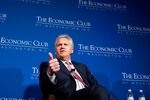 Of all the tasks that get crammed onto a business leader's agenda these days, here's one that may inspire more fear than envy: spend time in Washington. If they're not being summoned before some Senate committee or shepherded around town by lobbyists, executives tend to avoid lingering within the 202 area code. Yet few places are more critical to the success of their companies than the halls of Congress, where everything from financial regulation to trade policy is likely to reshape the business landscape.
A new study by FTI Consulting concludes that institutional investors no longer accept the fact that chief executives may get involved in policy debates. They demand it. In fact, more than 85 percent of the investors surveyed said they want CEOs to engage more with policy makers to protect their company's interests. With 95 percent of those surveyed also complaining that the decisions coming out of Washington have been negative for their portfolios, it's easy to see why. And when the survey pool consists of 260 investors managing assets of $2.6 trillion, executives may want to heed that advice.
So what's the most effective way for a business leader to interact with policy makers in Washington? The choices range from high-profile participation in business lobby groups to a closer advisory role to the president. Jim McNerney of Boeing has done both, chairing the President's Export Council and the Business Roundtable. (He also interviewed Obama onstage at the APEC CEO Summit in Honolulu.) President Obama seemed frosty to business leaders at the start of his term, an instinct that was no doubt helped by public anger at having to bail out "fat cats" on Wall Street, not to mention the automakers in Detroit. But the sluggish recovery has since prompted a spirit of reconciliation, especially after the midterm elections reinforced the price that elected officials can pay when they don't move the needle on unemployment. The president has tapped a number of business leaders in assembling his coterie of advisers and czars, from General Electric chief/jobs czar Jeff Immelt to Google Chairman Eric Schmidt, who's a member of the President's Council of Advisors on Science and Technology.
While the opportunity to influence policy and make a difference in public life have undeniable appeal, such roles can sometimes prove to be a Faustian pact for sitting CEOs. Immelt's appointment as chair of the new President's Council on Jobs and Competitiveness in early 2011 has arguably brought him as much scrutiny as influence. Some immediately labeled Immelt a crony capitalist; others called him a destroyer of American jobs for moving some of the multinational's manufacturing to lower-cost countries. (More recently, some of that manufacturing has moved back to the U.S.) But the overall impact of his participation has probably been helpful for GE. As someone who leads a company that's deeply affected by everything from tax policy to infrastructure spending, Immelt can only benefit by being part of the conversation on these topics. Moreover, as the CEO of GE, he's already used to the intense scrutiny and pressure to comment on the business landscape. Still, he has to walk a fine line between cooperating with the administration on policy and opposing it when those policies work against GE.
Schmidt, who stepped aside as Google's CEO last year, has observed that taking a public role in Washington can actually make it tougher to promote a company's interests—especially when you're still in an operational role. Much easier, perhaps, to go into government after your corporate days are behind you—a time-tested strategy for the former executives at Goldman Sachs who have filled the ranks of government in recent years. Or take on a project that's close to your heart, like former AOL chief Steve Case did in running the Startup America Partnership. While the entrepreneurship initiative is supported by the White House, it's not beholden to it.
For big players, the least stressful option—other than popping in on their government affairs guys during a quick stopover between Beijing and Brussels—is probably membership in the Business Roundtable. The association of chief executives offers both prestige and the chance to interact with powerful peers, including Wal-Mart chief Mike Duke, Jamie Dimon of JPMorgan Chase, and Ursula Burns of Xerox, along with folks like Immelt and McNerney. While the 40-year-old group prides itself on presenting government "with reasoned alternatives and positive policy suggestions," according to its website, others prefer to characterize it as a conservative lobby for big business that consistently calls for lower corporate taxes and less regulation. Such views are also echoed by the U.S. Chamber of Commerce, which has a much broader base but also lost powerful members like Apple over its stance on climate change.
For Geoff Smart, a leadership consultant and bestselling author, the most effective strategy for reshaping policy is to reshape government itself. He would like to see more business leaders take a sabbatical from corporate life to do stints in the public sector at all levels of government. Smart argues that, rather than run for office, a strategy that's had mixed results, leaders need to apply their skills within the bureaucracy of government itself. That can be anything from a Cabinet-level post in Washington to projects at the city level. "People complain that government is broken, but we have this incredible untapped resource to help fix it," says Smart, who outlines the argument in his book Leadocracy, which will go on sale this summer. "Government is only as good as the people within it."
For investors and business leaders who are frustrated with what's coming out of Washington, the best solution may be to move there and do something about it.
Before it's here, it's on the Bloomberg Terminal.
LEARN MORE