The Undergraduate Rankings Are Coming!
Francesca Di Meglio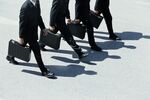 Chat: March 20, 2012 at 5 p.m. ET
Guests: Bloomberg Businessweek editors Louis Lavelle and Geoff Gloeckler
Is your undergraduate business school atop the Bloomberg Businessweek annual rankings? If you want to be the first to know, then you don't want to miss our next live chat event on March 20 at 5 p.m. ET. Our guests will be Bloomberg Businessweek editors Louis Lavelle and Geoff Gloeckler. They will countdown the top programs, and then take your questions about everything from the methodology to the surprises they unearthed while conducting this year's surveys.
This year Bloomberg Businessweek will roll out the new rankings over the course of an entire week. We'll publish the complete list on March 20 – along with stories, a slide show, and other content. But in the days that follow, you'll find additional stories on topics related to undergraduate business programs posted on the Business Schools channel.
To participate in the chat, head to the Chat Auditorium about 10 minutes before the scheduled event. You may be prompted to create a user name and password. It's free and should take only a few minutes. Francesca Di Meglio (screen name: FrancescaBW) will be your host. If you cannot attend the event, you can send your questions ahead of time to Francesca at FDBloombergBW@gmail.com with the subject "Rankings Chat."
Before it's here, it's on the Bloomberg Terminal.
LEARN MORE