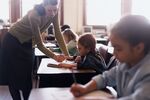 Excerpts from some of the more popular posts from the Drucker Exchange, a daily blog produced by the Drucker Institute at Claremont Graduate University.
We Guess He Won't Be Getting a Gold Watch
Greg Smith's parting shot at Goldman Sachs, on the op-ed page of this week's New York Times, was aimed squarely at the firm's leaders, whom he accused of not really caring about their customers' best interests or "doing the right thing."
Peter Drucker would have understood the exiting executive's frustration. Character, Drucker wrote in The Practice of Management, was not something any leader could "fool people about. … They may forgive a man a great deal: incompetence, ignorance, insecurity or bad manners. But they will not forgive him lack of integrity."
Minds Over Mines
According to a new study from the Organization for Economic Cooperation & Development, the more oil and other natural resources (whether diamonds or coal) your country has, the worse you're likely to do in school.
It's a striking testament to the increasing importance of knowledge work, something Peter Drucker defined and wrote about for much of his life. "Knowledge is the only meaningful resource today," Drucker declared. "The traditional 'factors of production'—land (i.e., natural resources), labor, and capital—have not disappeared, but they have become secondary. They can be obtained, and obtained easily, provided there is knowledge."
The Gift of Teaching
Much to the chagrin of the United Federation of Teachers, New York City's Department of Education has released a database ranking almost 18,000 teachers individually.
Peter Drucker, for his part, wasn't against holding teachers accountable for their performance. "Teaching a child to read by the time he has finished third grade … can be measured easily and precisely," he wrote. What Drucker couldn't explain was how to make a poor teacher a good one. In fact, Drucker lamented the power of those "who promise to be able to teach teaching" and observed that "we have focused on teaching as a skill and forgotten what Socrates knew: teaching is a gift, learning is a skill."
Before it's here, it's on the Bloomberg Terminal.
LEARN MORE