Snip, Slice: The Urology Center That Offers Free Pizza With Every Vasectomy
By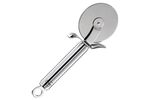 Go under the knife, get a slice. That's the March Madness-themed promotion from the Urology Associates of Cape Cod (UACC), which is offering a free pizza with every vasectomy scheduled by patients who visit one of its three clinics during the tournament. The $500-$700 surgery (which the association says is covered under most insurance plans) affords men the chance to have a safe method of sterilization—and a free pie from Surf's Up Pizza and Seafood in Sandwich, Mass. Bloomberg Businessweek talked to UACC urologist Dr. John Homa about the procedure, the promotion, and whether anyone who's just had their whoosit chopped really wants to eat a pizza.
Why did you decide to run this promotion?
I'm a big college basketball fan and I've seen other urology centers offer similar promotions. I've wanted to do this for some time and I thought March Madness would be a good excuse because a vasectomy requires several days of recuperation. Patients can go home, put their feet up, and watch basketball while they recover. I talked to our business department and this year we decided to do it.
Getting a vasectomy isn't something people do lightly. Will the pizza promotion result in impulse snips?
No, not at all. We've mostly been seeing people who've thought about getting a vasectomy for quite a while. Patients will often come in for a consultation and then disappear for a year only to come back and finally decide to have it done. The promotion targets the men who are secretly considering it. They'll see the pizza offer, the March Madness tie-in, and they'll come in. It's not like anyone's going to get a vasectomy just for the pizza.
Is the promotion working? Are more people coming in?
We've had a big increase in inquiries. Normally we'll schedule five consultations a week, but since we started this promotion a week ago we've had about 100. And these are patients who are serious about the procedure.
How many patients come in for a consultation and then actually go through with it?
In my experience it's about 75 percent or 80 percent. We always tell people to treat it as a permanent form of sterility, although it's true it can be reversed. Some doctors use a local anesthetic and do it in their office, but we actually do it at a surgical center and our patients are sedated. Reversing it is much more invasive because you're reconnecting two broken ends of a snipped vas deferens (the duct that carries sperm from a testicle during ejaculation). That requires a full operation under a microscope.
You're not supposed to eat anything before surgery, though. So when do they get their pizza?
When they schedule their operation, we give them a gift card for one large pizza with one topping from a local pizza place here called Surf's Up. They can eat it any time after the operation but we usually tell them to wait a few days—that's why we suggest they eat it while watching March Madness at home.