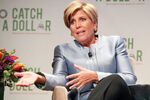 Call it the "boxification" of consumer finance. To protect consumers, there's been a big push to standardize disclosure of fees, penalties, and other charges—which often end up in a box in the promotional literature or agreements. The idea is that if all the costs are clearly displayed, consumers can choose the version of the product that best meets their needs and compare similar offerings.
The disclosures have typically been imposed by regulators and lawmakers. Now the prepaid card industry is trying to get ahead of government overseers. Three prepaid providers—Green Dot, Plastyc, and Ready Credit—have committed to test or adopt a new model fee box designed by the Center for Financial Services Innovation, a nonprofit funded by financial firms and foundations.
Prepaid cards are the country's fastest-growing payment method—even Suze Orman has launched her own card—and they can have dozens of different fees. Anisha Sekar, vice president of credit and debit products for the website NerdWallet, laughs when asked how Nerd Wallet compiled data comparing 58 prepaid cards for the its handy interactive database. "It was a bit of a struggle," she says. "There is really no standardization from card to card. They will not only charge different fees, but they will call them different things."
The box movement started in 1988 with the so-called "Schumer Box," named after then-Representative Charles Schumer (now senior Democratic senator from New York), who championed having fees and interest rates for credit cards listed in a consistent format. Over time, there have been efforts to expand the Schumer Box and make it more prominent. Since last year, the new Consumer Financial Protection Bureau has been refining designs of model mortgage forms, traveling around the country to test the prototypes. In February it announced plans to draft a sample penalty fee disclosure box for the overdraft fees incurred by debit users.
CFSI testified at the Senate Banking Committee's hearing on prepaid cards on Wednesday to promote its model box and recommend that it (or something similar) be mandatory on the packaging in which most prepaid cards are sold. The prototype lists 14 different fee categories, including the cost to set up the card and the fees for calling customer service or getting cash from an ATM.
A potential drawback to the plan is that there are more fees than room to list them on a typical prepaid card package, so you'll still have to pore over the card agreement to learn about every potential charge. CFSI's whitepaper says there's a "tradeoff" between simplicity and comprehensiveness. The lesson: Consumers still need to think outside the box.
Before it's here, it's on the Bloomberg Terminal.
LEARN MORE