Luxury Chinese Liquors Become Multibillion-Dollar Brands
By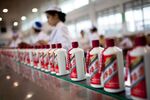 Even though you probably have not heard of them, two brands of Chinese, high-end alcohol—Moutai and Wuliangye—are among the best-selling luxury liquors worldwide. They don't just excel in the luxury liquor market, either. The Hurun Research Institute, a wealth-analysis group in Shanghai, counts them among the 10 most-valuable luxury brands overall, pegging their "brand values" (based on the net value of brand equity) above such well-known European names as Gucci (PP:FP), Rolex, and Cartier (CFR:VX). The Institute estimates Moutai's brand value at $12 billion and Wuliangye's at $7 billion.
Many members of China's wealthy and corporate elite are investing in—and indulging in—high-end spirits and wines. Hong Kong surpassed the U.S. as the world's largest wine-auction market in 2010. Last year, a bottle of vintage Moutai, with an initial biding price of RMB 2.6 million, sold for RMB8.9 million (about $1.36 million) in the city of Guiyang. In January, a bottle of Wuliangye brewed in the 1960s sold at auction for RMB980,000($155,687).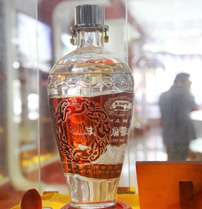 The bidding war would likely shock any American who has tried the liquors, which present an acquired taste that critics have compared to gasoline. (There's no significant market outside China yet.) Chinese fans of Moutai, a sorghum-based liquor that's up to 53 percent alcohol, describe it as exceptionally smooth, possibly as a result of using clean water from Guizhou province. Wuliangye—made from sorghum, rice, glutinous rice, wheat, and corn—is up to 52 percent percent alcohol and somewhat less expensive.
The surge in interest has been good for sales. Moutai producer Kweichow Moutai, based in Renhuai, Guizhou Province, generated an estimated RMB16.8 billion (about $2.7 billion) in revenue in fiscal 2011, an annual increase of about 66.3 percent, according to data and estimates compiled by Bloomberg. Wuliangye Yibin, based in Yibin, Sichuan Province, reported RMB20.2 billion ($3.2 billion) in revenue in 2011; estimates compiled by Bloomberg indicate that it will grow 33.2 percent, to RMB26.9 billion, in fiscal 2012.
How does that stack up? Moet Hennessy-Louis Vuitton (MC:FP), which owns several luxury wine and spirit brands such as Hennessy, Dom Pérignon, and Krug, reported revenue of $3.5 billion from wine and spirit sales in fiscal 2011. London-based Diageo (DGE:LN) reported sales of $15.6 billion in fiscal 2011, though it did not break down dollar sales across its 14 key brands, which include Johnnie Walker, Ciroc, and Tanqueray. Paris-based Pernod Ricard (RI:FP), which has 40 brands, including Jameson and Chivas Regal, reported $9.9 billion in sales.
In the U.S., the small number of Moutai and Wuliangye consumers are mostly Chinese. Steven Tang, manager at S. Dynasty, a Chinese restaurant in midtown Manhattan, says most customers who order Moutai and Wuliangye are visitors from mainland China. The restaurant sells 375 ml. bottles of Moutai for $220 and Wuliangye for $120. He says the liquors are hard to buy in the U.S. as there are few distributors. Prices, he says, have gradually increased with each order, probably because of high demand.
The hype surrounding Moutai and Wuliangye has attracted criticism in China, where the brands—served at official banquets—are being called symbols of government extravagance. In 2011, Kweichow Moutai withdrew its application to be considered for the World Luxury Association's listing of most-valuable global luxury brands.
While the company is concerned with protecting the Moutai brand, wealthy consumers who've sipped enough of a drink that's 53 percent alcohol might barely even notice the disapproval.