Harry Reid and Mitch McConnell Strike a Deal on Judicial Nominations
By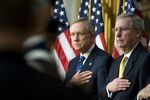 Senate Majority Leader Harry Reid (D-Nev.) pulled a clever political stunt this week. On Monday, he took to the Senate floor and lambasted Republicans for continuing to thwart the White House's nominees for the federal bench. "Republicans have prevented the Senate from doing its constitutional duty," Reid said, pointing out that some of the nominees had already been approved unanimously by both Republicans and Democrats on the Senate Judiciary Committee.
If this line sounds familiar, it is. Democrats and the White House have complained for months that Republicans have been stalling on even the least-controversial nominees, purely for political reasons. That has left hundreds of unfilled positions across the government—including many in federal courts.
Republicans deny that they are using stalling tactics and claim that a couple months is not an unusually long time for nominees to wait. They say the Senate has confirmed most of Obama's judicial nominees and that the ones they blocked were justifiably impeded. They also point out that when President Obama was in the Senate, he helped filibuster the nomination of Supreme Court Justice Samuel Alito.
To break the impasse, Reid took a different tack Monday, invoking a procedural rule that would essentially force back-to-back votes on 17 of the 22 pending nominations. The voting would monopolize the Senate's calendar until early April. Republicans claimed Reid would be irresponsibly putting off important Senate business for a few judges.
Politically, Reid's move was a smart one. If Republicans were truly opposed to the appointments, this would force them to vote down one judge after the next—and that could look pretty bad. Which is why by mid-week, the GOP capitulated: Reid and Republican Minority Leader Mitch McConnell (R-Ky.) agreed to schedule votes for 14 of the original 22 judges by the first week of May, says Erica Chabot, the judiciary committee's spokeswoman. Two nominees were confirmed Thursday.
So how'd they get the deal done? Republicans really want action on a bill to help small business. In exchange for the judges, Reid apparently agreed to help bring the small business bill to the Senate floor. For those of us watching, it's an exhausting trade-off.
Before it's here, it's on the Bloomberg Terminal.
LEARN MORE