With Any Luck, You Won't Win the Lottery
by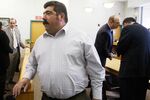 Former construction worker Americo Lopes thought he got away with keeping the $17.4 million winnings (after taxes) from a lottery pool he joined with co-workers in 2009. But yesterday, a New Jersey jury ordered him to share the Mega Millions jackpot with the five other members of the pool, leaving him with much less money—and likely no friends.
Considering the sorry fates of some other lotto winners, Lopes got off easy. Following their unexpected paydays, some lucky ticket-holders have lost all their money in a spiral of drug-and-prostitute-fueled depravity, while others have been harassed, robbed, arrested, and even murdered for money (some by family). Below, the lottery disaster hall of fame:
• Two years after Florida grandma Patty Bigbee won a $1 million Missouri Lottery jackpot, she was arrested in 2010 for attempting to sell her infant grandson to a couple for $75,000, reported stltoday.com.
• Immediately after Ontario resident Barry Shell picked up his $4.4 million lottery prize in 2009, police arrested him on an outstanding warrant for several charges from 2003, including stealing cameras, global positioning systems, memory cards, and watches, reported the Toronto Star.
• British garbageman Michael Carroll thought his £9.7 ($15.2) million lotto win in 2002 would change his life. Instead he spent it all on "drugs, gambling, and thousands of prostitutes," ballooned to 20 stone (280 pounds), and had to return to his old job as a garbageman in 2010, reported the Daily Mail.
• Nottingham, U.K., residents Mick and Jean O'Shea might be the cheapest millionaires alive. They won £10.2 million in the EuroMillions transnational lottery in 2005 and for more than six years since, the couple has been claiming £500 a month in disability benefits, the Daily Mail reported in February.
• Jose Francisco Romo moved to a ranch after winning $40 million in the California SuperLotto in 2001. Last month, however, Romo was arrested on felony animal cruelty charges after eight starving horses were found on his property.
Sudden wealth might change a person for the worse—or maybe it's just that a normal person has never won the lottery. What are the odds? Just to be safe, you might want to rip up that ticket.
Before it's here, it's on the Bloomberg Terminal.
LEARN MORE