What Joseph Smith's Candidacy Can Teach Mitt Romney
What the ill-fated candidacy of Joseph Smith can teach Mitt Romney
Avi Steinberg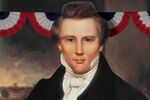 It isn't widely known that in 1844 Joseph Smith, the founder of the Church of Jesus Christ of Latter-day Saints, ran against James K. Polk and Henry Clay for president of the U.S. Perhaps this detail has been lost amid the many story lines of Smith's head-spinningly eventful life. In that year alone, Smith was mayor of a rapidly growing city, a church president, lieutenant general of a large militia, shopkeeper, surveyor, fugitive in two states, landlord, hotel manager, and prophet of the Lord. Not only did he have a whole bunch of wives to attend to, he also had the nearly full-time job of dancing around the fact that he had a whole bunch of wives. And still he found time, in April of that year, to have his Council of Fifty elect him "King and Ruler Over Israel."
As his tasks piled up and his stately Temple took shape in the center of Nauvoo, Ill., Smith's enemies, both near and far, multiplied and grew militant. With only months left before Election Day, his presidential campaign was brought to a shocking end when a mob of armed men, possibly with state backing, murdered him in prison, where he was being held for treason after he declared martial law in Nauvoo.
Historians debate the motives behind Smith's presidential bid. Some believe it was part of a desperate effort to protect his people from being slaughtered by hostile militias and federal indifference. Others chalk it up to megalomania. Whatever Smith's intent, he dispatched the full force of his missionary corps, hundreds of men, including most of his senior deputies, to stump on his behalf in every corner of the country. Even as he languished in prison, the candidate ran advertisements that urged his fellow Americans to do their part and vote for "General Joseph Smith of Nauvoo, Illinois."
For years he steered his large voting bloc back and forth between the Whigs and Democrats and managed to alienate both parties. On the issues, he walked gingerly along various centrist lines. A failed banker (he was driven out of Ohio when the bank he'd founded went belly- up), he favored "the fostering care of government" and thus a central bank (like a Whig), but with strict limitations (inching toward Democratic thinking). He was for the annexation of Western territories but, true to his New England heritage, opposed the creation of new slave-owning regimes.
Of the prophet's thinking on economics, Smith biographer Richard Bushman writes: "Rather than promising entrepreneurs great wealth, Joseph asked that 'money be brought [to Nauvoo] to pay the poor for manufacturing.' Profits were secondary to creating jobs." While Smith's hedging earned him enemies among the political elites, it also gave him a potentially powerful rhetorical edge with voters.
"We have had democratic presidents, whig presidents," he wrote, "a pseudo democratic whig president; and now it is time to have a president of the United States." This is the kind of talk that wins elections. Just ask Obama, who once used a similar exhortation at the Democratic National Convention.
Such rhetoric also reflects the fundamental lesson that Romney can learn from Joseph Smith's campaign: Better to sound empathic than prophetic. Inspire people. Lift them up. Help them be masters of their own fate, and try to understand their hopes and fears. Ever zealous, Smith suggested that the citizenry learn how to be a god yourself in order to save yourself. In 2012, it's probably better just to offer them a chance to get back to work.
Before it's here, it's on the Bloomberg Terminal.
LEARN MORE