The GOP Has a Daily Deal for You—And It Looks Just Like a Groupon
By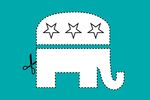 Sick of the same Groupon e-mails peddling day spas, tapas, and laser hair removal? Then the GOP has a deal for you.
The Republican National Committee is borrowing the tech-coupon company's branding in its latest attack on the president: They call it BarackOn.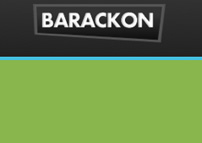 Launched Tuesday, the site purports to show the sweet deals available to Obama's fundraisers and favored industries, such as "Ambassador Appointments in Exotic Locales," and "Taxpayer-Funded Venture Capital For Your Shoddy Green Tech Idea." Its logo, design, and name conjure a slightly clumsier version of Groupon, down to the distinct pea-green and black background. The site implores visitors to "Sign Up For BarackOn Deals & Other News" from the RNC. But the "deals" are a lot less friendly on the eyes than Groupons. They're repackaged GOP research briefings—basically lengthy lists of talking points with links to news stories, blog items, and press releases.
And, like real daily deals, sometimes they overpromise: The lead item Wednesday was teased on the BarackOn homepage with this headline: "Direct Line To Valerie Jarrett To Discuss Your Stimulus-Funded Pet Projects." Clicking through, one reaches a 3,400-word memo titled "Who Is Better Off Under Obama's Energy Policy?" that only mentions Jarrett once.
Nevertheless, RNC spokeswoman Kirsten Kukowski says the site shares Groupon's viral appeal: "We've seen a lot of response on Twitter" and "a fair amount of new signups." She declines to share specifics.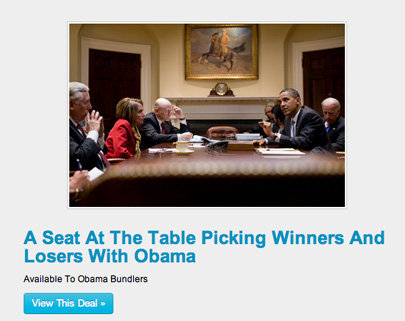 What does Groupon think of this, er, liberal appropriation of its design aesthetic? "Groupon does not have any comment on that, unfortunately," wrote spokeswoman Ashley Zandy in an e-mail. The company's chairman and co-founder, Eric Lefkofsky, donated $35,800 to Obama and the Democratic National Committee last year.
Kukowski notes that the RNC's lawyers approved the idea before the site went live. "Obviously it's a creative way to use something in pop culture to get our message out," she says. The RNC didn't communicate with Groupon and hasn't heard any feedback from the company, she adds.
So will faithful GOP followers receive a BarackOn every single day, just like Groupons? Kukowski doesn't expect to have enough material for that: "We're doing them based on when the White House is continuing to give away 'deals.'"
Before it's here, it's on the Bloomberg Terminal.
LEARN MORE