Is Nike's Flyknit the Swoosh of the Future?
Its new running shoe is spun, not sewn, reducing materials, time, and labor
By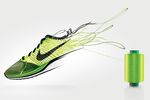 Footwear designers have long sought to satisfy a request from athletes: make shoes as comfortable as socks. Nike in the 1980s tried with a flimsy mesh sneaker called the Sock Racer. The shoe offered comfort but wasn't durable. Subsequent efforts ran into similar problems. Now the world's largest sporting-goods company thinks it's discovered the Holy Grail—a 5.6-ounce running shoe called the Flyknit, made from synthetic yarn ingeniously woven together by a knitting machine. But Nike executives are excited about more than a possible blockbuster product. They say the manufacturing advance that makes the Flyknit possible is the real find.