business
Great Product. Now, How to Sell It?
By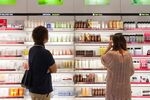 I'm manufacturing a line of health products and looking for distributors to sell them. To date, I've dealt with irresponsible sales types who did nothing. I also attended some shows that claim to put you together with potential buyers, and that was pretty much a sophisticated scam. How can I get these products turned over to someone who will take responsibility for selling them and save me the upfront expense of trying to get into retail? —K.M., San Fernando, Calif.
After developing a line of products and figuring out how to manufacture them, it's perhaps not surprising that you'd like to outsource the sales process entirely.
Unfortunately, that's not typically possible, says Rick Farrell, a sales training expert at Tangent Knowledge Systems in Chicago. "Too many manufacturers, in my opinion, look at the selling of their product as a secondary goal. They put their heart and soul into their product that they deeply believe in and expect it to sell itself," he says.
You're correct that retail sales can be costly and difficult to crack, says Ron Hubsher, chief executive of the Sales Optimization Group in New York. "Well-entrenched competitors develop systems to keep out new entrants. Typically, you might have to find a wholesaler who might use a distributor to get the product into retail. Then, to get shelf space, you may have to pay a slotting fee or marketing development funds. You have to shell out the money before any sales are made, and it may take many months to get paid," Hubsher says.
Not only does traditional retail reduce your margins and drain your cash flow, but it increases your working capital requirements and distances you from your target customers.
Think about trying out multiple distribution channels for your product, including direct sales online, as you get started. Once you build a reputation and customer base, it will be easier to attract distributors eager to represent your product line. Direct sales are less costly and will help you find your target customer while you test the marketplace, says Kristin Zhivago, a consultant and revenue coach at Zhivago Management Partners in Jamestown, R.I.
Set up a Facebook page and Twitter account for your products, if you don't already have them, and invest time in social media marketing, she suggests. "It is not a passive medium," Zhivago says. "You have to put at least an hour a day into it, every single day, creating and scheduling tweets and Facebook entries."
You should also contact bloggers and people who post videos about your types of products and offer to send them free samples in return for reviews. She recommends Sprout Social and Solve360 to manage your social media efforts and your contacts with online influencers. When you are ready to approach retailers and reputable distributors, be careful, she cautions: "There are hundreds of predators and very few people who actually pay for themselves."
Conduct due diligence on potential sales partners similar to what you would do before hiring an employee, says Ron Volper, managing partner of the Ron Volper Group and author of Up Your Sales in a Down Market (Career Press, 2012). That means researching them online, rooting out any trouble they may have had (check with their secretary of state's office), checking with the Better Business Bureau, getting their credit report from D&B, and talking to their references.
He recommends you look for listings of reputable medical sales representatives through the Healthcare Distribution Management Association. Then consider carefully what you are willing to pay in order to get quality salespeople interested in representing your product, says Mark Schwartz, a management and sales consultant based in Los Angeles. With a new product, it's likely you'll have to pay larger commissions, provide extensive product training, and give extra incentives early on. "If delivery is slow and the commissions are low, you will not get really qualified sellers to represent your product," Schwartz says.
Once you contract with some reps, have them sign licensing agreements that stipulate your expectations and present guidelines about how returns will be handled and how much inventory the salesperson will purchase each quarter, Volper recommends. "There is no shortage of unscrupulous people who can walk away with your product, sell it, but not return the correct proceeds to you or ruin your reputation by scamming customers," he says.
But there are also good brokers who will work hard to make your products successful, says sales compensation consultant Dan Kleinman. You "have the leverage of developing a commission program that encourages the broker to find the right distributors and reap the rewards when product is sold and revenue is received," he says.
Before it's here, it's on the Bloomberg Terminal.
LEARN MORE