Brazil Wins Soccer Games: How Will It Host Them?
by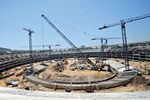 Brazil, the most succesful soccer nation on earth, is slow in preparing for the next World Cup in 2014 and needs a "kick in the butt", Jerome Valcke, secretary-general of the world soccer governing body FIFA, said on March 2. Valcke, who referred to delays in ratifying legislation on hosting the tournament, later had to apologize for the comment. FIFA has also complained about delays in building stadiums and other infrastructure. In February the contractor reforming the Maracana stadium in Rio de Janeiro, the planned venue for the World Cup final, said 35 percent of the construction had been completed. Stadiums in the southern city of Porto Alegre and the northeastern city of Natal are also behind schedule.
While Brazil's Sports Minister admitted the country's airports needed improvement, he insisted the only five-time world soccer champion would be ready to host the mega sporting event. "The works are not delayed, almost all of them are well advanced. I don't think we'll have problems with that," Sports Minister Aldo Rebelo told reporters.
Before it's here, it's on the Bloomberg Terminal.
LEARN MORE