Tippie Appoints First Female Dean
Alison Damast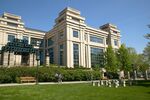 Sarah Gardial, currently vice provost of the University of Tennessee, Knoxville, has been named the next dean at the University of Iowa's Tippie College of Business, becoming the first woman to assume the role at the school. She is expected to take office July 1. Gardial takes over for William "Curt" Hunter, who announced his retirement last year. Hunter held the position since 2008 and was the first African-American dean of the school.

Gardial joins the ranks of a growing number of women business school deans, including Sri Zaheer, who was appointed dean of the University of Minnesota's Carlson School of Management last week.
Since coming to the University of Tennessee, Knoxville in 1986, Gardial has served as a marketing professor and assistant dean for the full-time MBA program. She currently oversees faculty recruitment and development as vice provost. As Tippie's B-school dean, she will be in charge of a business program with about 2,200 undergraduate and 1,200 graduate students. In a statement released yesterday, Gardial said she was drawn to the school's reputation and its mission as a public university.
"The college has outstanding faculty, researchers, and students and I look forward to working with them to develop a plan and a vision that builds on its tradition of excellence and achievement," Gardial said.
Gardial beat out four other finalists who were interviewed for the role by the school's dean search committee this past January and February. Her salary will be $380,000, the school said. Search Committee Chair Gail Agrawal said in a statement that Gardial distinguished herself with her "deep understanding of business education coupled with strong leadership and communication skills."
Gardial is a product of public universities, having received her undergraduate degree from the University of Arkansas and her doctorate in 1986 from the University of Houston. "My DNA is in public education," she said.
Before it's here, it's on the Bloomberg Terminal.
LEARN MORE