Not Retired: Will Older Baby Boomers Find Jobs?
Chris Farrell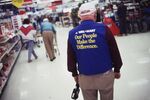 Maybe the recession really is over. Yes, the economic mandarins at the National Bureau of Economic Research—the official date-keepers of America's booms and busts—declared the downturn finished in June 2009. Not many people bought into their judgment considering the unemployment rate was 9.5 percent at the time. The latest figures show that nonfarm payrolls rose in February, with the unemployment rate at 8.3 percent.
Sticking with jobs, downturns quicken the pace of economic change. Case in point: the older worker. Think tanks, blue chip commissions, and scholars have issued thousands upon thousands of reports calling for an aging baby boom generation to work well into the traditional retirement years. The downturn forced many boomers to get the message. They had borrowed too much, saved too little, and had the bad luck to watch their homes and 401(k)s plunge in value in recent years. The labor force participation rate for those aged 55 and older is higher than its level before the economic downturn. Among those 65 and over, it rose from 16.3 percent when the recession started in December 2007 to 18 percent in January 2012.
The question is, will the jobs be there for aging boomers? Will they be condemned to greet customers entering a big-box retailer? How realistic is it to expect employers will contemplate hiring a 63-year-old, let alone a 68-year-old, applicant? The responses to those questions from a random set of conversations with colleagues, neighbors, and local businesses suggest deep skepticism, an understandable takeaway from the worst labor market since the 1930s. Economists are more optimistic. "I think the jobs will be there," says Richard Johnson, economist at the Urban Institute. Kevin Cahill, economist at the Sloan Center on Aging & Work at Boston College, points to the smaller number of workers following the boomers: "The demographics suggest employers will have no choice but to hire older workers."
Steve Poizner, a Silicon Valley serial entrepreneur, is betting there's money to be made getting jobs for boomers in the 45-to-65 age range. Poizner is a former California insurance commissioner who also ran, unsuccessfully, against Meg Whitman in the Republican primary for California governor. His latest venture is the Encore Career Institute in Los Gatos, Calif. The company has teamed up with UCLA Extension to offer professional certificates and career counseling for those boomers making a shift to a new career or enhancing their current skills. The courses will be delivered via Apple iPad. The company has identified a number of growing fields for older workers, such as health-care managers for patients navigating the medical complex and jobs dealing with sustainability issues within organizations.
College counseling is another example. No one really disputes that some form of postsecondary education—from a community college certificate to a business school MBA—is a passport to material success. The demand for counselors who can navigate the postsecondary universe comes from public, charter, and private schools. A growing number of parents are also turning to college counseling experts for guidance. Salaries in the college counseling occupation are $40,000 to $50,000 at a nonprofit organization and potentially much higher—$50,000 to $80,000—working with private clients. "There are jobs in the area and there is a huge need," Poizner says. "It's a great encore career for a boomer."
Of course, some occupations are more older-worker friendly than others. Silicon Valley information technology companies are notorious for a bias toward youth, but workers 65 and older make up about 31 percent of all funeral services employees. It's the occupation with the highest share of older workers (no joke). The leading occupations for men 65 and older in 2010 were in management, business, science and arts (14.49 percent), sales and related occupations (13.53 percent), and transportation and material moving (11.42 percent), according to the Urban Institute. For their female peers, the top occupations were in office and administrative support (25.70 percent), sales (14.27 percent), and education, training and library (8.62 percent). Many of the occupations open to older workers allow for flexible work arrangements, from downsized lawyers and physicians at the high-income end of the spectrum to crossing guards and ushers at the low end.
"Older workers value flexibility," says Johnson. "They don't want to work 9 to 5 five days a week."
There's the rub: The price of flexibility and fewer hours on the job is one reason older workers earn a lower income than earlier in their careers. For example, 68 percent of people 50 and over still working made less than they did in their pre-retirement job, according to a 2008 Families & Work Institute survey. Wages are likely to get even worse with the swelling ranks of older workers. It may well take lower wages to entice employers to hire an aging workforce. Employer surveys consistently show that older workers are valued for their reliability, but the management harbors doubts about the willingness of these workers to learn new things. "Age discrimination is an issue for boomers," says Poizner. "We do think we are fighting for a cause since we need to change the way employers think about boomers."
For many workers burning the midnight oil in a tough economy, the thought that jobs will be there at lower pay when they're older is hardly cheering. However, it does mean that the standard retirement advice to work well into old age is realistic—perhaps the first piece of good news about retirement in a long time.
Before it's here, it's on the Bloomberg Terminal.
LEARN MORE