Is Warm Weather Putting a False Shine on the Economy?
By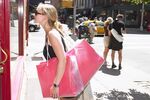 Stocks jumped on Tuesday off news that February retail sales rose 1.1 percent from January, the best monthly gain since September 2011. The Standard & Poor's 500-stock index closed up 1.8 percent, and the Dow Jones industrial average breached the 13,000 mark again with a 217-point gain. Outside of gas stations, which grew sales by 3.3 percent in February on the back of higher gasoline prices, consumers increased spending the most on cars and clothes. Auto sales were up 1.6 percent in February compared with a month earlier, and were 6.9 percent higher than a year earlier. Consumers are now buying cars at the fastest pace in four years. Shares of General Motors rose 2.68 percent on Tuesday. Consumers drove retail clothing sales up 1.8 percent for the month, adding steam to shares of Gap and Target.
Coupled with last week's strong jobs report, the retail numbers seem to add further fuel to the view that the recovery is becoming stronger by the day. But have you looked outside lately? Chances are it's unusually warm where you live. This is causing some analysts, even bullish ones, to start casting a more skeptical eye on all this sunny economic data. They say the unseasonably warm weather we've had this winter is making the numbers look better than they are, and is actually stealing economic activity from the spring.
With a national average temperature of 38.3F, this February was 5 degrees warmer than last February and 4 degrees warmer than the last five Februarys. Going back to 1920, this is the fourth-warmest winter on record. According to Bank of America Merrill Lynch U.S. economist Neil Dutta, those high temperatures skew the seasonal adjustments the government makes to winter economic data in order to compensate for lower activity. "If the winter is unseasonably mild, those seasonal adjustments aren't appropriate," says Dutta. "It's overcompensating, which makes the data look better than it is."
As the new retail report illustrates, instead of sitting on our couches cooped up inside on the weekends or shoveling snow, Americans are actually getting out and spending this winter. This isn't just goosing spending, but making our jobs numbers look better, too.
In a March 9 report he co-authored with BofA Merrill Lynch North American economist Ethan S. Harris, Dutta points out that in a typical February jobs report over the last five years, you see 485,000 workers reporting they're not at work due to bad weather. This February, that number totaled only 178,000.
The net effect is to pull spending and hiring activity forward from the spring into the winter. "What we're probably going to see is relatively better winter data give way to weaker spring data," says Tom Porcelli, chief U.S. economist at RBC Capital Markets. While pulling forward spending can in some ways be a good thing, it usually eats into future growth. Cash for Clunkers, for example, sparked strong auto sales in the summer of 2009; but a year later, sales plummeted despite a stronger economy. Anybody who could afford a new car had already bought one a year earlier, and the stimulative federal program did relatively little to create more disposable income for most Americans.
Under better circumstances, this early spending may have some virtuous effects on the economy by improving businesses' bottom lines and leading them to restock inventories earlier. But that would depend on having consumers there this spring ready to buy more stuff. And below all the positive data over the last few months is an American consumer who is still "just barely hanging on," says Porcelli.
Income growth remains weak. As Dutta points out, average hourly earnings grew by just 0.1 percent in February, which followed a meager 0.1 percent growth in January. New numbers released on Tuesday by the Bureau of Labor Statistics show a labor market with fewer, not more job openings. There were 3.46 million job openings in January 2012, down from 3.54 million at the end of December 2011. It's a small decrease, but a decrease nonetheless. You don't get the sense U.S. firms are looking to open their doors in a big way to the 12.8 million unemployed Americans.
Chances are incomes won't grow much over this spring, which means that if you spent money in January and February you hadn't intended to, you probably won't have much to spend come April or May. But look on the bright side: At least the warm weather comes free.
Before it's here, it's on the Bloomberg Terminal.
LEARN MORE