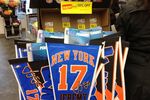 Linsanity pennants and stick-on tattoos: all half-off in New York's ubiquitous convenience store Duane Reade. "Reduced to Clear!" "Super Buy!" The merchandise is "just sitting there," says one employee, who was not authorized to speak to reporters and asked not to be named. "It wasn't worth it for us," another employee adds. Does this desperate attempt to clear merchandise signal the official end of Linsanity in the Knicks' home city?
Jeremy Lin rocketed to fame in February but seems to be fizzling fast. He may yet deliver on the promise of his thrilling first few games as a starting point guard for the Knicks, but he doesn't seem likely to shoot another 38-point game like he did against the L.A. Lakers on Feb. 10.
The Knicks' six-game losing streak has been disappointing, and now appears to have cost the Knicks their coach, Mike D'Antoni. But Lin remains one the team's most valuable, visible, and marketable players, even if the craze is subsiding. Lin is even said to be in talks to endorse Volvo in China, reported Bloomberg News.
A Lin T-shirt is displayed in the window of the NBA Store in Manhattan. A green-and-orange No. 17 shirt is even the centerpiece of the NBA Store's St. Patrick's Day table near the entrance (there's irony that the popularity of the young Asian icon is being used to sell an Irish holiday to fans). Lin shirts and caps are also prominently displayed by the entrances of Foot Locker, Champs, and City Sports stores in Manhattan.
Cedric Silveira, a footwear manager at City Sports near Rockefeller Center, says that at the peak of the hype, his store repeatedly sold out of sizes other than large and extra-large and constantly replenished stock. Things have calmed, but customers are still buying, and the store has no plans to reduce the price on the $22 Lin T-shirts, which are $2 more than other players' shirts. Says Silveira: "Lin sales will depend on whether they make the playoffs."
Linsanity may be dead in Duane Reade, but avid fans have never bought sports merchandise at local drug stores anyway.
Lin still represents hope to fans who have been starving for a championship win for nearly 40 years. "The media hype behind Jeremy Lin is over, but Lin's days in New York are far from over. Lin will lead the Knicks to a championship one day," says fan and New Yorker Dersim Kaya.
Reginald Pressoir, a 28-year-old fan and Queens native, says, "I've been a Knicks fan my whole life, and for the last 10 years they've been irrelevant." He adds: "[Lin] at least got them into the conversation. He had people from all over the world trying to watch. He's an unbelievable phenomenon. You've gotta give him his due. No other person could have done that. You don't see that story often."
If Linsanity is over, it's because the Knicks are doing poorly. "It's really more about winning. As long as the team is losing, you won't see much about Linsanity," says Pressoir.
Before it's here, it's on the Bloomberg Terminal.
LEARN MORE