China's Local Debt Is No Problem, Wen Says
by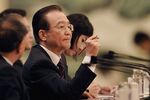 In what will likely be his last national press conference, Premier Wen Jiabao had some reassuring words about China's local debt burden. Speaking before Chinese and foreign reporters at the close of the National People's Congress on March 14, Wen announced that last year the debt held by local governments rose by only 300 million yuan ($48 million).
"What he indicated was that there was almost no net increase in local debt last year. That is a huge change from the past," says Andy Rothman, China macro strategist at CLSA Asia-Pacific Markets in Shanghai. That contrasts with 2010, when local government debt grew by 19 percent year-on-year, and 2009, when it soared by 62 percent, at the height of the stimulus, Rothman said.
In 2010, China had 10.7 trillion yuan in local debt, China's National Audit Office announced earlier. Much of that accumulated following the 2008 launch of China's stimulus that saw easy credit offered to municipalities eager to construct buildings, bridges, and factories. Last year, Standard & Poor's estimated that as much as 30 percent of that could prove bad, fanning concerns that local debt could constrain China's future economic growth and hinder its ability to be a global growth driver.
While local governments borrowed another 2.1536 trillion yuan last year, 2.1533 trillion yuan was paid back, Wen said in the three-hour press conference at Beijing's Great Hall of the People, situated on the west side of Tiananmen Square. And much of China's local debt is tied to good investments or "high-quality assets," with cash flow and returns, a portion of which would go to paying off loans in the future, he explained.
"The government debt level is under control, and is safe," said Wen, who will step down, after serving as premier for a decade, at next year's National People's Congress. "The debt-to-GDP and budget deficit-to-GDP ratio for China is at a fairly low level. They are both lower than many developed countries and in emerging-market economies." Debt problems will be resolved in a "step by step" manner, while those debts relating to public welfare projects like schools, will be taken on by the central and local governments of China, he said.
On March 6, Yang Kaisheng, president of Industrial and Commercial Bank of China, said China's debt-to-GDP ratio is about 43 percent, with total government debt of 17.5 trillion yuan ($2.78 trillion). That includes the local debt of 10.7 trillion yuan, plus 6.8 trillion yuan of central government debt, Yang said.
With China's fiscal revenues up by 24.8 percent in 2011, year on year, reaching a record high of 10.37 trillion yuan ($1.64 trillion), the country is in good shape to gradually resolve whatever bad debt it has, says CLSA's Rothman.
"This is not Greece—the debt that local governments owe is all to Chinese banks, not to foreign banks. And all the banks are controlled by the Chinese Communist Party, which also happens to control the local governments. It is all basically within the Communist Party system," says Rothman. "As long as the revenue stream for the party—which includes central and local government revenues—keeps growing, then over time they will be able to clear the debt."
Before it's here, it's on the Bloomberg Terminal.
LEARN MORE