Chef Marcus Samuelsson's Office Bag Lunch
by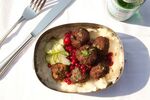 Marcus Samuelsson first made a splash in New York's dining scene in the 1990s as the hotshot, twentysomething executive chef at Aquavit, the Scandinavian stalwart in Midtown Manhattan. He cemented his success in 2003, when—as the owner and executive chef at the Red Rooster in Harlem—the Ethiopian-born, Swedish-raised Samuelsson was crowned "Best Chef: New York City" by the James Beard Foundation.
Subsequently, he's served up meals for the White House and been named a "Global Leader of Tomorrow" by the World Economic Forum. As his new memoir, Yes, Chef (Random House, 2012), nears publication, Samuelsson provides Bloomberg Businessweek with a recipe to jazz up the brown bag lunches of tupperware gourmets.
Helga's Meatballs
"This recipe is inspired by my grandmother, Helga, who taught me how to cook," says Samuelsson. "Growing up in Sweden, we ate meatballs a lot and I still love them. In fact, I serve Helga's Meatballs at my restaurant, Red Roster Harlem. They're a great food to eat, hot or cold, because each ball is so packed full of different flavors in a way that a piece of chicken or a piece of salmon is not. You can have meatballs with mashed potatoes for dinner one night and then bring them to work sliced in a sandwich the next day. You could also heat the leftovers with some veggies for lunch, or eat them cold over a salad."
Ingredients (serving 4 to 6)
• 1/2 cup dry breadcrumbs
• 1/4 cup heavy cream
• 2 tablespoons olive oil
• 1 medium red onion, finely chopped
• 1/2 pound ground chuck or sirloin
• 1/2 pound ground veal
• 1/2 pound ground pork
• 2 tablespoons honey
• 1 large egg
• Kosher salt and freshly ground black pepper
• 3 tablespoons unsalted butter
Ingredients for the sauce
• 1 cup chicken stock
• 1/2 cup heavy cream
• 1/4 cup lingonberry preserves
• 2 tablespoons pickle juice
• Kosher salt and freshly ground black pepper
Instructions
1. Prepare the meatballs: Combine the breadcrumbs and heavy cream in a small bowl, stir in with a fork until all the crumbs are moistened. Set aside.
2. Heat the oil in a small skillet over medium heat. Add the onion and sauté for about 5 minutes, until softened. Remove from the heat.
3.  In a large bowl, combine the ground beef, veal, pork, onion, honey, and egg, and mix well with your hands. Season with salt and pepper to taste. Add the bread crumb-cream mixture and mix well. With wet hands (to keep the mixture from sticking,) shape the mixture into meatballs the size of golf balls, placing them on a plate lightly moistened with water. You should have about 24 meatballs.
4. Melt the butter in a large skillet over medium-high heat. Add the meatballs, in batches if necessary, and cook, turning frequently, for about 7 minutes, until browned on all sides and cooked through. Transfer the meatballs to a plate and discard all but 1 tablespoon of fat from the skillet.
5. Prepare the sauce: Return the skillet to the heat, whisk in the stock, cream, preserves, and pickle juice, and bring to a simmer. Season to taste with salt and pepper. Add the meatballs to the sauce, reduce the heat to medium, and simmer for about 5 minutes until the sauce thickens slightly and the meatballs are heated through.
Before it's here, it's on the Bloomberg Terminal.
LEARN MORE