business
An Online Antidote to the Housing Bust
By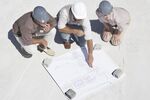 Drew Sivgals used to do most of his landscape design near Newport Beach, Calif., where his five-employee office is based. Now nearly one-third of his business comes from out-of-state or overseas clients. He attributes much of his newfound clientele—including a Dubai homeowner who wanted a semi-enclosed air-conditioned patio—to a three-year-old website called Houzz. "I'm getting quite a few inquiries from all over the United States and internationally," says Sivgals. "I just got an e-mail from a lady who lives in Capri."
Houzz is an online directory that homeowners use to find architects, general contractors, and myriad other home-improvement pros for construction or remodeling projects. Combining elements of local review site Angie's List (homeowners can read reviews fellow homeowners post) and image-sharing network Pinterest (professionals can post photos of their work for homeowners to browse), Houzz has more than 60,000 professionals in the U.S. who actively manage their profiles, adding photos and answering questions. Sequoia Capital led an $11.6 million investment in the Palo Alto startup in December.
Does the world need another service aimed at making comfortable people more comfortable? The commercial benefits aren't just for furniture makers and other brands that pay Houzz to advertise their products. The site helps small business owners like Sivgals broaden their reach beyond their local area, says co-founder and Chief Executive Adi Tatarko. "Now Houzz turned on the light and we can see what's going on around the world," she says. "I think Dubai is an extreme example, but there are definitely many others who are reporting that they are getting jobs across the U.S. and not in their local metro areas."
Houzz's ability to connect professionals with homeowners regardless of location builds on a national trend: an upswing over the past year in remodeling as new construction stagnated. Contractors who typically did new construction before the housing bust "broadened their geographic coverage because they've been able to pick up remodeling work," says David Crowe, chief economist for the National Association of Homebuilders in Washington.
"The housing cycles prior to this one had not been so severe," notes Crowe. "Most builders had ways of surviving that require them to travel farther or take on work they didn't usually do—but this cycle it's a new phenomenon. It surprised me in that it was that widespread."
Before it's here, it's on the Bloomberg Terminal.
LEARN MORE