Poll: Obama Dodges Blame for Gas Prices
By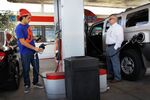 On Monday I wrote about how the White House, in releasing its energy progress report and going on the TV news circuit to talk about it, was trying to deflect attention from Republicans' latest attack line: blaming the Obama administration for rising prices at the pump.
Guess what? It turns out that most Americans don't actually blame the President for the high gas prices—at least so far. This, according to a Bloomberg National Poll out today. (More on the poll from my colleague Mike Dorning). Sixty-six percent of the 1,002 adults surveyed say that "the oil companies and Middle East nations who are taking advantage of [tensions with Iran] to make more money" are most responsible for higher gas prices. (And if you think those prices are high now, here's Bloomberg Businessweek's Romesh Ratnesar on why bombing Iran would make them skyrocket.)
The Obama administration has made the decision to open up further federal resources in the Gulf of Mexico and Alaska for exploration and has been touting that policy decision on the campaign trail. But Americans get that there are larger factors at play in influencing oil prices than Obama's energy policy.
Before it's here, it's on the Bloomberg Terminal.
LEARN MORE