MBA Falling Out of Favor?
Francesca Di Meglio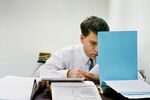 Is the full-time MBA becoming obsolete? Not quite, but there are signs that it's moving in that direction.
As we've reported, business school applicants taking the GMAT entrance exam are, in greater numbers, showing a preference for graduate business degrees other than the MBA. Now new research from the Graduate Management Admission Council (GMAC), which publishes the GMAT, reinforces that finding and suggests a growing problem.
The survey of 16,000 prospective students who registered with mba.com, the official GMAT website, found that even among this group of people in the early stages of their B-school journeys, the MBA is losing favor. The percentage of respondents who considered two-year MBA programs dropped from 47 percent in 2009 to 42 percent in 2011; for one-year programs the number fell from 42 percent to 38 percent over the same period. These are not exactly nail-in-the-coffin numbers, but they're troubling nevertheless.
Even those who do consider the MBA aren't exactly bubbling over with enthusiasm. While those who consider MBA programs usually follow through with an application, an increasing number don't—all types of MBAs (except for online programs) had a slight year-over-year decrease in application yield in 2011, while the trend for two-year and one-year programs shows a longer-term decline.
What gives? As Gregg Schoenfeld, director of graduate management research at GMAC, points out, interest in other graduate business programs is on the rise, particularly among a new segment of masters candidates who are younger and looking for specialized graduate programs earlier in their careers. Survey respondents considering the master of accounting jumped from 13 percent in 2009 to 16 percent 2011, while those considering the master of finance increased from 18 percent to 20 percent over the same period.
Schoenfeld maintains that the MBA is just fine, noting that 42 percent of prospective business students worldwide considered a full-time, two-year MBA, and that three out of four followed through with an application in 2011.
It's also worth pointing out that the ascendancy of finance programs may not be long for this world. When prospective business school students finally catch onto the fact that the Wall Street jobs they covet are no longer as plentiful or lucrative as they once were, the finance degree might hold a lot less appeal, and the MBA a lot more.
Before it's here, it's on the Bloomberg Terminal.
LEARN MORE