Is Peter Thiel Just Messing With Us?
by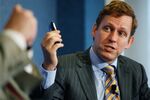 Billionaire Peter Thiel, who pays teenagers to leave college for two years to pursue their entrepreneurial dreams, is putting on his own tweed jacket to teach a course at Stanford (where Thiel himself earned degrees in philosophy and law).
This isn't the PayPal co-founder's first time behind the lectern. He's taught at Stanford Law school before. The listing for the course, simply called Startup, promises that "students can expect to be proficient in the core skills critical to the founding and growing of a tech company upon completion of this course." Entrepreneurs and venture capitalists will lecture for 90 minutes on Monday and Wednesday afternoons in the spring quarter.
Will Thiel be as withering in front of his class as the leaders of his foundation sounded in a recent Fast Company piece, in which they called college "a wicked cocktail of debt, status, insurance, and consumption," and "a scam"? Thiel himself has called education "the one area where I think there still is a full-fledged bubble."
Lots of people are questioning the value of higher education, as tuition rates climb and many students carry heavy debt loads into a lousy job market. State fiscal crises have pushed up costs at public universities. Student debt was a focal point of last fall's Occupy protests, and President Obama said in the State of the Union address that "colleges and universities have to do their part by working to keep costs down."
If Thiel expects 250 students to learn how to start companies by attending two months of lectures from him and other Silicon Valley paragons, perhaps there's more to the college cocktail than his derision would suggest. Maybe students take on all that debt and delay starting companies or joining the workforce because for most of them, the alternative is much worse. A quick reality check: The unemployment rate for people with bachelor's degrees is 4.3 percent. It's 7.5 percent for those with some college or associate's degrees and 9.2 percent for high school grads with no college.
Of course, Thiel's a provocateur. Giving two dozen (former) students $100,000 each to do research and start companies isn't any kind of solution for the real problems of college cost and debt that he highlights. The project does give him a great bully pulpit from which to spin his contrarian ideas about education, though. Like Ivory Tower types on campuses across the country, he's deliberately taken a controversial stand, hoping to spark debate and make people challenge the received wisdom—all without offering much in the way of practical solutions. Maybe that tweed jacket fits Thiel just fine.
Before it's here, it's on the Bloomberg Terminal.
LEARN MORE