Five Things to Take Away From This Year's SXSW
By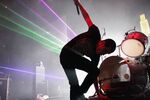 South by Southwest Interactive, which ends today, drew tens of thousands of the social media elite to Austin, Tex. There were torrential rainstorms, highway-snarling traffic jams, and endless lines of attendees collecting conference badges, but that didn't dampen the party or the enthusiasm for the next new thing. For those who managed to travel smartly and stay dry, there were several lessons to be gleaned from the 20th anniversary of this multidenominational conference, which is quickly becoming an annual gathering place for small startups, big brands, and media and tech insiders.
There's always something newer than the last new thing. A few years ago, Twitter took SXSW by storm. Then it was such location-sharing services as Foursquare and Gowalla. This year, passive-location apps like Highlight and Glancee were generally understood to be the belles of the ball. These services link to your Facebook accounts, run in the background on your phone, and then alert you when friends or friends of friends are in your close proximity. Highlight got much of the attention, though it only works on the iPhone, so I installed Glancee on my Android Nexus Prime. It's smartly designed, but amid the frenetic rush of the conference, a little useless. At one point, I noticed an old work friend was two hundred yards away—but didn't know which direction he was in, and I was running to an appointment anyway. Maybe these tools will be more useful when they can provide more detailed locations? Also, big surprise: Most users of Glancee appear to be men.
Popularity at SXSW does not guarantee success. Others have pointed this out. Last year's phenomenon, GroupMe, a group text messaging service, was acquired by Skype. The company let people text message groups of their friends at the same time. Yet that doesn't mean people continue to use it. My GroupMe groups from last year were completely dormant this year. Punctuating the point, Facebook closed down location-sharing service Gowalla this week, which it acquired last year. SXSW is a social media petri dish for apps, but once they leave the dish and hit the oxygen of the real world, they can wither.
Big brands are desperate for social media glory. American Express sponsored a Jay-Z concert at the conference, giving out free tickets to badge holders who were also cardholders by syncing their cards to their Twitter accounts. The company also streamed the show live on YouTube. Meanwhile, HBO, a division of Time Warner, used the conference to heavily promote its new Judd Apatow-produced show, Girls. Employees of the network handed out coupons for free breakfast sandwiches, but only after making conference-goers follow the show's Twitter feed. These big companies and others see SXSW as a playground for social media influencers—and want to send them home evangelizing their brands to their friends.
Some tech gimmicks can seem heartless. Ad agency BBH Labs thought it had a clever idea to solve perpetual bandwidth overload at the show: It outfitted homeless people with T-shirts reading "I'm a 4G hotspot" and Mi-Fi devices offering 4G wireless broadband in exchange for a volunteer payment to the homeless person. The Homeless Hotspots website said this was merely a more modern version of the homeless hawking free newspapers. Twitter reaction to the stunt was harsh, though, and turning human beings into bandwidth seemed "a little dystopian," as one writer put it.
Old media wants to play, too. Jill Abramson, executive editor of the New York Times, took the SXSW stage on Monday to discuss the future of the Gray Lady. She said she was pleased with the number of digital subscriptions the paper sold and noted that Sunday circulation, after the paywall was instituted, actually went up. Abramson also promised that the paper will increase its number of links to other high-quality news sites. And then there was the news that got the conference buzzing on Monday: that CNN was negotiating to buy social media news site Mashable for as much as $200 million. Mashable has a healthy audience but hasn't necessarily covered itself in journalistic glory. It's sort of the tech equivalent of the Huffington Post: posting fast, posting often, and often just rounding up the latest news (not unlike this article). CNN's pursuit of Mashable is more evidence that in the age of SXSW, franchises with the strong scent of social media are hot.