business
Everybody's Running From Murdoch—Except Readers
The embattled media empire retains U.K. readers
By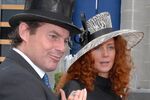 British lawmakers may be fed up with Rupert Murdoch's style of tabloid journalism. But one group has been more hesitant to break its longstanding relationship with the embattled Australian media lord's London red-tops—readers.
On Tuesday, British police arrested six individuals as part of the ongoing phone-hacking investigation, according to the Associated Press, including Rebekah Brooks, the former top executive overseeing Murdoch's papers in London, and her husband Charlie Brooks, a racehorse breeder and friend of British Prime Minister David Cameron.
The high-profile arrests follow the news in late February that James Murdoch, Rupert's son, was stepping down as the executive chairman of News International.
Despite all the negative press, Murdoch's daily London tabloid, the Sun, remains the U.K.'s most popular paper. According to the Audit Bureau of Circulations, the Sun's circulation averaged 2.6 million copies between September 2011 and February 2012. While those numbers are down 8 percent over the same period a year earlier, the Sun's circulation remains well above its closest rivals, the Daily Mail (1.9 million), the Daily Mirror (1.1 million), and the Daily Star (640,000).
In February, Murdoch launched a Sunday edition of the Sun. A recent poll found that 32 percent of the British population thought it was a bad idea, while only 22 percent supported the move. Even so, the debut issue of the Sun on Sunday sold 3.2 million copies, according to the ABC—making it, overnight, the country's top-selling weekend paper.
Although the numbers have since dipped, sales remain strong. The second issue of the Sun on Sunday sold 2.6 million copies, while the third issue, on March 11, sold 2.7 million, according to a report in the Guardian. That's about what the News of the World was selling (2.67 million copies), the Guardian notes, in the month before Murdoch shuttered the Sunday tabloid last summer amid public outrage over phone-hacking revelations.
The prolonged drumbeat of bad news also seems to have done little to date to dampen Murdoch's enthusiasm for his London tabloids. "Sun on Sunday improving every week," Murdoch recently wrote on Twitter. "See tomorrow's article by Yvette Cooper. Should stir the pot! Another big paper for 50p."
Before it's here, it's on the Bloomberg Terminal.
LEARN MORE