Why You Can't Pay NCAA Pools Online (Psst, You Can)
By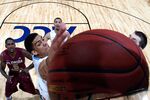 In 1996, Chris Hehman built one of the first online bracket managers for the NCAA men's college basketball tournament, or March Madness, as it's known to most of the millions of Americans who gamble on it every year. Hehman's boss at the now defunct telecom firm Nortel wanted a better way to keep track of the fifty odd entries in the annual office pool. "Fifty doesn't seem like a large number now," says Hehman, "but back when you had to print it all and mark up all of the results and score them by hand, it was extremely tedious."
So Hehman wrote a program that scored the 63 picks on every bracket automatically. His office mates liked it so well he thought he might be able to sell it on the Web. Since Nortel owned the original software, he rewrote it from scratch and put it online. In that first year a few dozen people paid $9.95 to use the service to run a pool. "We paid $500 for one ad on Yahoo. And it paid for itself just barely," says Hehman.
Last year, some 2,000 customers used Pickhoops, as Hehman's site is now called, to process 180,000 brackets. It's nowhere near the 5.9 million brackets filled out on ESPN's free service or the 4.5 million at CBS Sports, but it pulls in more than $20,000 each year for Hehman and three others in Durham, N.C., who run the site in their spare time. Like all bracket managers, Pickhoops provides a place for the members of a pool to enter their picks and tallies the results. It also calculates each participant's maximum possible score at each stage and allows users to see the outcome under every possible scenario. It will even generate picks for you, taking into account your tolerance for upsets. About the only thing Pickhoops won't do is collect and distribute money.
It's not that Hehman couldn't add this function. It's that he's afraid to. "When we were first getting started, we looked at what the various rules were," he says. "They are often extremely confusing or extremely weird." In some jurisdictions, pools were legal as long as the all money that had been paid in was paid back out. In others, they were permitted unless somebody complained or as long as they stayed below a set amount of money. "It's a giant cluster of special rules and special places," he says, "It's not practical for us to even know where and when it's legal."
Hehman is not alone. As the office pool has moved online—with dozens of services like Pickhoops that offer to manage brackets for a small fee or for the cost of enduring banner ads—payment remains a stumbling block. Everybody knows that betting is widespread. A 2009 Microsoft survey estimated that 58 million Americans fill out brackets. And oddsmakers say about $12 billion is wagered on the tournament. But service providers like Hehman can't facilitate that flow, or at least they can't be seen to.
Crowdtilt, a Palo Alto start-up that helps groups of people fund everything from non-profits to tailgates, would be perfect for March Madness. In fact, a couple weeks ago a public relations pitch showed up in my inbox saying just that.  How do they deal with gambling regulations? I emailed to ask. A few hours later came a reply saying that actually, no, Crowdtilt was not to be used for gambling on the NCAA tournament. "If it's explicit gambling or, especially with March Madness pools, if someone is taking a cut, then we have to put a stop to it.," says Crowdtilt's founder James Beshara. "Personally I wish we could [allow it]," he says but the company's payment processor, PoundPay, forbids it.
A Google search, however, pulls up this Crowdtilt pool of $875 (and counting) in Tulsa. "Entry is $25 and payouts will be posted before the 1st game," write the organizers. "Last year our challenge had over 130 participants with a pot over $3,400. Let's double that number this year! Join now and stand a chance to win the pot, all the TCU kids are doing it."
March Madness may be America's largest annual ritual of collective law breaking. "There are easy arguments that could be made that outside of Nevada a bracket of any sort is illegal, especially if you're moving it online," says Alexander Ripps, a legal analyst at Gambling Compliance, a Washington, D.C., consultancy. The Professional and Amateur Sports Protection Act (PASPA), a federal law passed in 1992, prohibits sports betting except in Nevada, Delaware, Oregon, and Montana. (New Jersey is currently fighting to get on that list.) The Interstate Wire Act of 1961 made it illegal to communicate wagers or "information assisting in the placing of bets or wagers on any sporting event or contest," across state lines over wires, a rule that has been deemed to include the Internet.
And then there is the Unlawful Internet Gaming Enforcement Act (UIGEA), a law tacked onto the SAFE Port Act of 2006 that sent online poker players fleeing by making it illegal to accept payments related to unlawful gambling.  UIGEA contains an exception for fantasy sports, which may or may not include March Madness, depending on whom you ask. It also has to be triggered by a complaint at the state level, where gambling law is a mishmash. For all that, Ripps says he's never heard of anybody being prosecuted for filling out a bracket.
Still, online vendors have to be careful. Law enforcement may view co-workers plunking down bets every year as harmless, but making a business model of it would likely turn heads. "If you see a company or multiple companies setting up a product that easily facilitates this and it becomes a multimillion- or billion-dollar business," says Ripps, "someone is going to look into it." Hehman at Pickhoops avoids the problem by providing a space where users can, if they so choose, leave instructions about payment. It's called "message of the day," he says laughing. "We see people frequently saying, 'Pay us with PayPal or send me a check to so-and-so.'" A PayPal spokesperson states by email that the company "follows all the legal and regulatory rules in the US as it relates to gambling" and points to this policy page. The company declined an invitation to elaborate on its enforcement efforts.
If a crackdown ever comes, it may be hard to find anyone with clean hands. Hehman says his customers include government officials, law firms, law enforcement, and "other places that you think maybe they shouldn't be doing office pools." They also include this reporter, who's participated in pools run on Pickhoops and paid the organizer via PayPal. He hasn't won yet.
Update, 3/14:
According to an email obtained by Bloomberg News, PayPal is restricting some customers' accounts if they seem to be using the service for receiving bets. At least two users have received word that they are in breach of policy due to "sales/offers of march madness sports pool." (It probably didn't help that the users' friends included notes on their payments that read "march madness pool.") The email asks the alleged offenders to submit an online "affidavit" agreeing again to the terms of service or else PayPal will "escalate" the issue.