Obama Tries to Take the Spotlight Off Gas Prices
By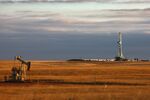 The White House started the week by promoting a progress report on its energy goals that's full of feel-good factoids President Obama will no doubt use on the campaign trail to counter Republicans, who blame him for high gas prices.
Consider oil imports, which fell 10 percent in 2011. As the report notes, domestic oil production is at its highest level since 2003 and natural gas production is at an all-time high. Last year, the U.S. refining sector was a net exporter for the first time in 60 years.
Republicans call Obama hypocritical for claiming to be tapping into all available energy resources while abandoning the Keystone pipeline. GOP frontrunner Mitt Romney has said he will approve the pipeline on his first day in office. But the administration has indeed been opening up more public lands for exploration. In December, the Department of the Interior held the first oil- and natural-gas-lease sale in the Gulf of Mexico since the Deepwater Horizon spill, and is planning to hold a dozen further sales in the Gulf and in Alaska. The White House says it plans to open more than 75 percent of the estimated undiscovered, technically recoverable oil and gas resources to development.
That might sound like anathema to the President's liberal base. But there's something in the report to appease them: progress in renewable fuel development.
Renewable energy generation from wind, solar, and geothermal sources has doubled since 2008, thanks in part to public investment and approval of projects, the White House reports, and the Environmental Protection Agency has put in place tougher fuel economy standards for heavy duty trucks. (They require an average performance equivalent of 54.5 miles per gallon by 2025.) The administration has largely done this with the support of business. Last week, Best Buy and PG&E were the latest big companies to join the Energy Department's Clean Fleets program, in which such companies as Fed Ex and Coca-Cola have agreed to work with the government to make their commercial fleets more fuel-efficient and more capable of using alternative fuels.
Before it's here, it's on the Bloomberg Terminal.
LEARN MORE