ForumWatch: Post-Meltdown MBA
Francesca Di Meglio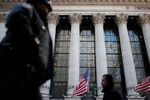 After the financial crisis, many people turned to business schools to earn advanced degrees and make themselves more competitive in the difficult job market. Not everyone, however, is convinced the strategy worked. Some are questioning the MBA's true return on investment (ROI). Now that big finance companies are not paying as much as they used to—or at least that is how it seems—what kind of salaries will MBAs be making in the future and how much longer will it take to earn back that hefty tuition?
These questions are top of mind for those thinking about attending an MBA program. And often they bring this discussion to the Bloomberg Businessweek Business School Forums. Recently, QuestionMBA broached the subject with a lengthy opening post that brought up the fact that fewer people are using the MBA to make a career change into finance, and as a result graduates are probably earning less from the start.
What do you think? Join the conversation by clicking on the "MBA and money: still really worth it??" discussion thread.
—Francesca Di Meglio
Editor's Note: This blog post is part of a series about discussions taking place on the Bloomberg Businessweek Business School Forums, where prospective MBA program applicants, current students, and recent alumni trade admissions tips, job-hunting advice, and the occasional barbed comment. We invite you to join these discussions or start one of your own.
Before it's here, it's on the Bloomberg Terminal.
LEARN MORE