Aflac's CEO: 'If I Had Kept Silent, the Stock Price Could've Gone to Hell'
by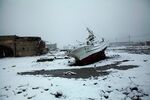 At about 1 a.m. on March 11, 2011, Aflac Chief Executive Officer Dan Amos was awoken by aides who told him the news: A 9.0-magnitude earthquake had just hit Japan, triggering a massive tidal wave that was headed for the eastern coast. Ever since Amos's father and uncles established a beachhead selling health and life insurance in Japan in the 1970s, the country has been a vital part of Aflac's portfolio. As of the tsunami, Japan accounted for nearly 80 percent of the company's business. The damage there had the potential to deal a catastrophic blow to Aflac's insurance business. In dealing with it, Amos faced one of the biggest crises of his 22-year career as CEO. A year later, he talks about it.
Describe those first several hours after the earthquake hit.
They woke me up in the middle of the night when the earthquake hit. We knew a tsunami was on its way and that it was likely to be bad. But we had no idea how bad. We got a team together and in a matter of hours we had made a donation to the massive relief efforts that were already starting to spring up.
How long did it take you to get to Japan?
We were able to get there within a couple days. We could only get into Tokyo, though, and it was a total ghost town. The lights were all out, it felt like a different time. Americans were leaving left and right. At that point, the nuclear concerns were apparent. We weren't able to move around at all, so we ended up leaving. But a few days later we were able to get into Sendai.
Describe the damage you found on the ground.
I live in Georgia, and have seen the damage that tornadoes can do, but I'd never seen anything like this. You realized that with this tsunami, almost everyone drowned. They knew it was coming, they had 30 minutes to prepare, but there was no way out to get out.
You caught some flak for some early statements you made.
Since 80 percent of our business is in Japan, I thought we needed to communicate. That's always a fine line as a CEO. The message I tried to convey was that while the damage was catastrophic, it was localized, and not something the country, or our business, couldn't overcome. I said something to the effect that the damage impacted about 5 percent of the total population and gross national product. There was immediate backlash. I read on Yahoo.com a comment that I should be put in jail for telling people that we were on track to make our numbers. It's one of those things that shows you how careful you have to be about sharing information. Even though I was correct, it demonstrates that you're risking more by saying something than not.
Aflac's stock price sunk immediately. Did the market overreact?
No, I don't think so. It could have been devastating for us. But as the weeks went on, we got more comfortable with the situation and sharing what we knew. The most nerve-wracking part about it was that I was out on a limb by myself. We were one of the only companies to address the situation and potential losses. But that's exactly why I had to do it. If I had kept silent, the stock price could've gone to hell. Bad news does not improve with age.
Did you study other nuclear disasters?
From the get-go we had actuaries researching Chernobyl and Three Mile Island. A ton of people were working 24 hours a day to give us the best estimates as to the eventual damage. Throughout those first weeks, we were in constant contact with our people in Japan.
How bad were Aflac's losses?
Remember, we didn't have property and casualty insurance. It was health and life insurance. And the health insurance liabilities were fairly limited because, to be honest, the people who were impacted, they either lived or died. There weren't a whole lot of injured people who ended up living. It took some time before we started to realize that's how this thing was shaping up. It didn't really resonate with me at first that there weren't going to be a lot of claims on this accident.
There's been some criticism about how the Japanese economic and political leadership has dealt with the recovery over the last year. How do you think they've done?
The thing about the Japanese, they've never claimed to be the fastest at things, but they have claimed that when they do finish, they get it right. I'm not surprised it's running behind, but they'll be right and they'll make it right when they're done.
Aren't you concerned about how much your company's long-term health is tied to the Japanese economy?
They've been stuck in this [weak economy] for 20 years, but let's remember their situation is a bit different in that most of their debt is owned by themselves, so we're not as worried about their debt structure as we are in Europe, for example. But we've been fortunate that we've grown in this environment. We're up 18.6 percent last year [on new annualized premium sales].
Before it's here, it's on the Bloomberg Terminal.
LEARN MORE