A MakerBot for the Office
by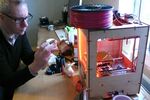 Brendan Dawes wrestled with an unruly reel of plastic he was feeding into his new MakerBot Thing-O-Matic 3D printer. Soon a jumble of knotted plastic sprawled all over his home office.
Dawes, a 45-year-old interactive designer and the founder of Beep Industries in Manchester, U.K., was one of the Thing-O-Matic's early adopters, and this was one of his first attempts to use the machine. He bought it in December 2010, around the time it launched at a cost of about $1,225. Mainly he was curious. And in the world of 3D printers, where prices can reach tens of thousands dollars, this consumer-level, desktop model is relatively affordable.
The first thing he printed: a bunny—a common design and something of a rite of passage among MakerBot owners, he says.
The printer squeezes out one layer of heated plastic at a time according to a design on an SD card or sent from a connected computer. Users can download open source designs from sites such as Thingiverse.com and create their own, using such programs as Google Sketchup, Tinkercad, and OpenSCAD.
Like many MakerBot owners, Dawes started by making doodads such as model rockets and key chains but eventually found more practical uses. He made prototypes for the MoviePeg, Beep Industries' £6 ($9.38) smartphone and tablet stand, and the POPA, a £50 iPhone accessory that allows users to hold the phone like a traditional camera and press a button to take photos.
Bre Pettis, founder of MakerBot Industries, says: "A MakerBot can be an indispensable tool for the office. If something breaks, like a doorknob, you can just make a new one, along with the pliers to fix it. Employees can create their own custom 3D business cards or personalize their desks with 3D-printed iPad docks and coffee mugs. If you want to be a master in office warfare, you can even print out trebuchets and catapults to attack your unsuspecting co-workers."
Anyone who asks Dawes for a business card today gets a Lego Duplo piece. He makes sheets of plastic with his name and contact information in raised print, which he sticks onto the blocks. "You can't fit too many in a pocket, so I can't carry too many, but they're always a talking point," he says.
Dawes estimates the other office knickknacks he has made only cost a few cents a piece to print. There are cable holders and clips for attaching pens to notebooks, and he printed a hexagonal organizer to keep his desk tidy: "I thought it was cool for a few days."
Printing can be addictive, Dawes says, so he has become more selective to avoid creating too much clutter—and plastic waste.
He writes on his website EverythingIMakeWithMyMakerBot.com: "Often times I'll spend a few hours working on an idea thinking 'yeah this'll work'. Then when you try it out you actually think 'wow, that's completely shit'. But that's ok—it's all part of the process! At least that's what I tell myself."
Before it's here, it's on the Bloomberg Terminal.
LEARN MORE