A Government Nod for Companies Doing Good
by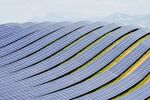 For a dozen years, SJF Ventures has backed companies with the dual goals of delivering the hefty returns venture capitalists want and benefiting the environment or low-income communities. The Durham, N.C., venture firm has invested in companies such as eRecyclingCorps, a cell phone recycler that recently got a $35 million follow-on round led by Kleiner Perkins.
SJF is in the process of raising a new $75 million fund that will be larger than its first two funds combined. That's partly because it just got the U.S. government's imprimatur as the first national "impact investment" fund under a year-old effort by the White House to steer money to companies that do good.
The status is granted to companies "investing first and foremost for financial return but where they see an opportunity for social return over and above financial return," says Sean Greene, the Small Business Administration official in charge of the program.
The government has licensed so-called Small Business Investment Companies for decades. These are funds that put their money in growth businesses, often with the help of government-backed loans. Apple, Intel, and Costco all benefited from the program in their early days.
Last year the Obama administration reoriented part of the program to get money to companies that contribute to low-income areas or such sectors as clean energy and education. (Though a $130 million fund that focused on Michigan was licensed last year, SJF is the first national firm to get the designation.) SJF already has already tapped more than 40 investors to raise a "substantial amount" of its $75 million target, says David Kirkpatrick, the firm's managing director. The lead investor is Citi Community Capital, Citibank's community development arm.
Getting licensed as a Small Business Investment Company should help SJF attract money from banks (Deutsche Bank is an additonal partner) because it will automatically count toward community development investments, a factor that regulators consider in evaluating those banks.
Kirkpatrick hopes that SJF's 12-year track record and its SBIC stamp of approval will distinguish the firm from its rivals and help convince institutional investors, including wealth managers and family offices, that investing for good doesn't mean sacrificing returns. "This kind of helps to raise us above the fray," he says.
Before it's here, it's on the Bloomberg Terminal.
LEARN MORE