The Outfitter of Kings, Spies, and Adventurers
By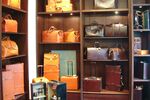 Let me set the scene for a moment: It's 1750. The British monarchy is still situated in St. James's Palace, making the surrounding area of shops and private clubs the center of society life. Around the corner on Piccadilly lane, a whipmaker named John Ross sets up the shop that will become Swaine Adeney Brigg, with the idea of attracting an upper-crust clientele. He could never have guessed quite how successful he would be.
In the firm's first year, the store received royal warrants from not one, but seven members of the royal family, including King George III himself. It has gone on to hold warrants from every British monarch since then, as well as from myriad other royals. Upper-crust clientele achieved.
Swaine Adeney Brigg has spent the last two-and-a-half centuries carefully balancing tradition and innovation. It is responsible for quintessentially British icons like the whangee-handled Brigg umbrella, as well as modern classics like Indiana Jones's special bullwhip and James Bond's red, sheepskin-lined attaché case featured in From Russia With Love. Not to mention it's often credited with inventing the color "London Tan."
And those are just the items you'll find on the shelves that lie behind the imposing wooden doors of 54 St. James's Street, around the corner from Ross's original address. On top of these exquisite pieces, Swaine Adeney Brigg also offers a full bespoke service that collaborates with you to create briefcases, luggage, and furniture that are perfectly suited to your tastes and habits. (You will, however, be paying royal prices for the privilege: A standard attaché case—sans alterations—costs more than $3,000.)
Everything is handcrafted at its facilities in Cambridge (ready-made and bespoke alike) and you are getting only the best leathers, woods, and metals available; indestructible brass fittings, rarely seen skiver (vegetable-dyed sheepskin) linings, and thick bridle leather are standard across the board.
And, most important, you're getting the best craftsmen around. For example, shaping a briefcase handle requires a complex procedure wherein multiple pieces of leather are layered, wrapped, and stitched to produce something that is at once soft to the touch and durable enough to outlast its owner. These are eminently bequeathable pieces.
While you may balk at the prospect of spending thousands on custom luggage only to have it manhandled by airport personnel, think of it this way—one more incentive to fly private.
Before it's here, it's on the Bloomberg Terminal.
LEARN MORE