Surprise: Job Growth is Hottest in the Warm-Weather States
By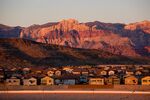 A new report by two Goldman Sachs economists uncovers a surprising bit of data from the economic recovery. Job growth in the four "sand states" (Arizona, California, Florida, and Nevada) is now outpacing the rest of the country. Meaning the states that got hit hardest by the Great Recession are now recovering fastest.
What makes this even more impressive (and counter-intuitive) is that the quicker pace of sand state job growth is mainly due to improvements outside their bread-and-butter sector—the construction industry. In 2011, non-farm payrolls, excluding construction, grew by 1.7 percent in the four sand states, compared with just 1.1 percent in the 46 other states. However slight, the difference does represent a break from the traditional recovery narrative.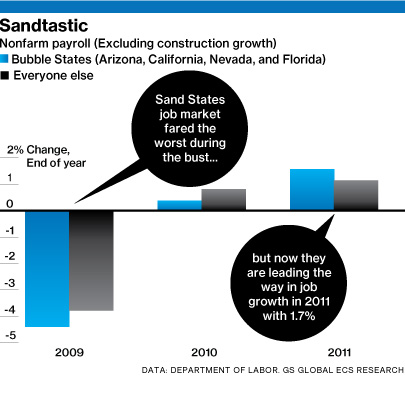 "I was a little bit surprised," says Jan Hatzius, chief economist at Goldman Sachs and lead author of the report. "What's particularly interesting is the contrast this new data provides between now and where we were a year ago, when [job growth] was still below the national average."
Hatzius and his co-author, Goldman senior economist Zach Pandl, point out that this isn't merely a function of the sand states having a "greater sensitivity to the national business cycle." They're not snapping back because their correlations to national employment trends are higher. Hatzius and Pandl write: "We tested this formally by regressing sand state employment growth on national employment. (We used data from 1960 to 2005 in order to avoid biasing the estimates by the housing boom-bust period itself.) The results showed that the sand state "beta," taken as a whole, was not statistically different from one." Meaning these states aren't apt to get a higher (or lower) boost from changes in the country's employment picture.
Hatzius says that California's job market is improving fastest among the four states and that Nevada is the laggard. That's not surprising, since California's economy is much more diverse than Nevada's two-trick economic pony of gaming revenue and construction activity. Though it has come down from its peak of 14.9 percent, Nevada's unemployment rate remains the country's highest, at 12.6 percent. In the last four months of 2011, California's jobless rate fell an entire percentage point, from 12.1 to 11.1 percent.
Unemployment peaked in Arizona at 10.4 percent in December 2009 and has since dropped to 8.7 percent. Florida was among the last states to see its unemployment rate peak. It hit 12 percent in December 2010. Since then, Florida's recovery has been among the fastest in the country. The state added 13,000 private-sector jobs in 2011, according to Mark Wilson, president of the Florida Chamber of Commerce. The state's jobless rate finished 2011 below 10 percent.
According to Wilson, Florida is benefiting from efforts put in place several years ago to diversify the state's economy from tourism, agriculture, and construction. "Seven, eight years ago, those are all we had," says Wilson. In the last year, Florida has seen strong gains in the health-care industry and manufacturing.
Florida is trying to position itself at the top of states with low taxes and regulations. The state has no personal income tax and its corporate income tax rate has been lowered to 5.5 percent. "We are on pace to completely phase out corporate income taxes in Florida," says Wilson. "We want to set the model for job growth in the U.S."
So far, the state seems to be on the right path.
Before it's here, it's on the Bloomberg Terminal.
LEARN MORE